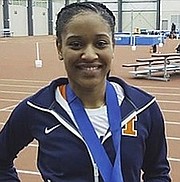 By BRENT STUBBS
Senior Sports Reporter
bstubbs@tribunemedia.net
RIO de Janeiro, Brazil: In the aftermath of Shaunae Miller's inspiring gold medal performance, Bahamian national record holder Pedrya Seymour rebounded from a disappointing start to propel into third place in her heat of the women's 100 metre preliminaries on Tuesday morning.
Seymour's time of 12.85 seconds was one of the three automatic qualifiers in the second of six heats that saw American Nia Ali stop the clock in 12.76, followed by Canadian Philicia George in 12.83. Seymour's performance was tied for the tenth fastest with Anne Zagre from Belgium, who was second in the first heat.
"It wasn't my best, but I thank God that I was able to make it to the semi-final. That was the goal," said Seymour, who got left in the blocks, but made up ground in the middle of the 10 flights of hurdles to surge into second, only to be caught at the line by George when she eased up.
"It was just a race to get the nerves out."
Seymour, the 21-year-old from the University of Illinois who had a chance to win a medal at the NCAA Championships before she went crashing down over the first hurdle, said she was a bit nervous coming out of the blocks, but she's content that she got through and is now onto the semi-final to run out of lane three in the second of six heats on Wednesday at 7.45pm EST.
The top two in each heat and the next two fastest finishers will advance to the final at 9:55 pm EST.
Seymour said the feeling of following in the footsteps of Miller in getting a medal had to do a lot with her performance.
"Everyone was saying, 'you're next, you're next', and I know what my goal is and I know I have a lot more to give and a lot more to offer," said Seymour, one of three Bahamians who qualified for the Olympics in the event, but the only one to compete. Devynne Charlton, who is taking in the experience in the Games Village, went down with a season ending injury and Adanaca Brown, who is in the United States, didn't compete this year.
As she consistently remains around the 12.8 mark, Seymour said she only expects to get better and although she hasn't "had the perfect race yet" she insists that there is still more to come and 12.8 is not her best.
"I really want to PR big. I don't know what that means, but I really want to PR big," she insisted.