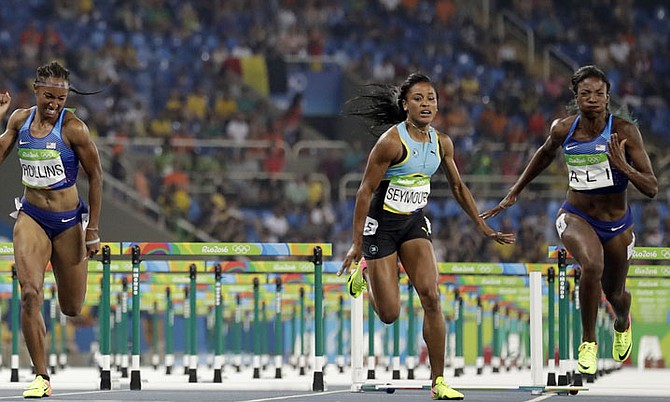 By BRENT STUBBS
Senior Sports Reporter
bstubbs@tribunemedia.net
RIO de Janeiro, Brazil: Sixth place in the world in the women's 100 metres hurdles. Not bad for starters for Pedrya Seymour.
Less than two hours after she lowered her national record to 12.64 seconds in the semi-final, Seymour came back in the final tonight and ran 12.76 to finish sixth in a race that had an unprecedented American sweep of the three medals.
"It was a good run, definitely not my best because I ran my best in the semi-final," said Seymour, who was coming off a sensational season that included appearances at the NCAA Indoor and Outdoor Championships for the University of Illinois and a trip to the IAAF World Indoor Championships for the Bahamas.
"I give all praise and thanks to God because without him, none of this would have been possible I'm really happy because this is my first time running the event and I made it to the Olympic final, so this is a huge deal," she added.
Sandwiched in the middle of the field in lane five, Seymour once again didn't get a good start and, by the time she tried to make up some ground, Americans Brianna Rollins and Ali Nia, who occupied lane six and four, had already gone.
Rollins, the top qualifier, stopped the clock in 12.48 for the gold, followed by Ali in 12.59 for the silver and Kristi Castlin took the bronze in 12.61, just ahead of Great Britain's Cindy Ofili, who had a season's best of 12.63 for fourth.
Cindy Roleder from Germany finished ahead of Seymour in fifth in 12.74 with Great Britain's Tiffany Porter faded to seventh in 12.76. Canadian Phylicia George brought up the rear in 12.89.
Seymour, 21, was the second Bahamian in a final on the track at these games, following the gold medal performance from Shaunae Miller in the women's 400m. Donald Thomas and Trevor Barry got seventh and 11th respectively in the men's high jump final as the Bahamas completed the individual performances with four finalists.
All that's left for Team Bahamas is the men and women's 4 x 400 metre relays that will be contested on Friday and Saturday with the heats and finals.