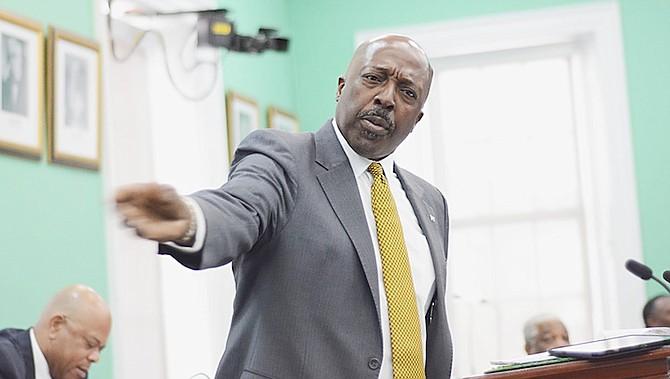 By KHRISNA VIRGIL
Deputy Chief Reporter
kvirgil@tribunemedia.net
THE Free National Movement (FNM) is attempting to make the termination of more than 600 Sandals Royal Bahamian Resort employees political, despite sending thousands of people to the unemployment line when the party was last in office, Labour Minister Shane Gibson has told The Tribune.
While the opposition party plays "political games" with the lives of the redundant workers, Mr Gibson said the government is trying to get as many of them as possible rehired by the hotel.
During an interview yesterday, Mr Gibson called the situation "unfortunate" as an industrial agreement was not in place at the time of the redundancies.
Asked to respond to criticism that the Christie administration was blindsided by Sandals' decision, the minister said there were labour laws in place and the government cannot start a precedent of dictating to private sector business owners how to conduct their affairs.
His comments came a day after Long Island MP Loretta Butler-Turner said that it appeared that the government was content in accepting the termination of the workers. She said this administration's "incompetence" and "laissez-faire" approach to governance was to blame for the country's unemployment challenges.
"Listen to me carefully; Loretta Butler-Turner doesn't have anything to offer me as minister of labour when she is going to try and make politics out of hundreds of employees losing their jobs," Mr Gibson said. "Now when she wants to talk sense then I'll listen, but while she is playing politics we have no time for that.
"We have a country to run. We have jobs to secure. We have jobs to create and if she is going to try and play politics when thousands of lives and their survival is at stake, I'm not into her.
"Our position right now is that we are trying to get as many of them as possible re-employed. It is unfortunate that an industrial agreement was not in place at the time. It is unfortunate that Sandals chose not to emphasise the option of asking each employee individually to accept time off without pay for that period. So our position now is that we have to try and see how we can make sure encourage them to keep on as many as possible."
He added: "It's strange for Loretta to comment now. I mean I didn't hear her comment like this when they sent those hundreds of employees home at Atlantis. She sat by quietly without a word and all of a sudden she could find words because she wants to play politics?
"Secondly, Loretta don't have to go far. Her government sent home thousands of workers from the Bahamas Telecommunications Company. Her government sent home dozens of customs officers. Her government sent home dozens of police officers. Her government sent home almost 100 persons from ZNS and now she wants to tell us? Those things they could have controlled."
On Monday, Mr Gibson said his ministry was given very little notice by Sandals of its decision to make more than 600 employees redundant so it could conduct renovations. Critics have blasted the government over this.
Asked to respond to this, he said: "The reason why we have labour laws in the country is because they govern what happens in the country and if anybody is saying they want us to dictate to employers well let us dictate to everybody.
"Tell Loretta if she wants us to be able to dictate to people let us dictate to her when she comes to Parliament.
"What I am saying is that the system doesn't work that way. You put laws in place and the country is governed by laws. So whenever there is a challenge you refer to the law. So don't come now for political reasons to tell us we should dictate.
"You have to deal with employers in accordance with the law. You can't arbitrarily do something because it is politically expedient," Mr Gibson said.
On Wednesday, Mrs Butler-Turner, the FNM's shadow minister of labour, also accused Prime Minister Perry Christie of showing "utter disregard" for the employees and their families because he has remained silent on the matter.
She said this situation coupled with the "belligerent and incompetent" manner in which the unopened Baha Mar resort was handled is proof that the government has little respect or regard for Bahamian workers or the well-being of their families.