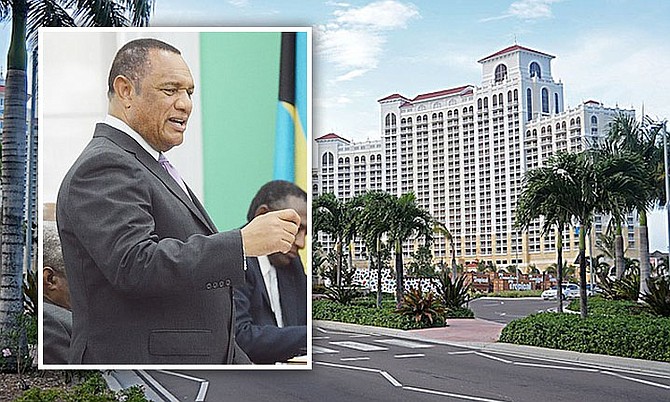 DR HUBERT Minnis, Leader of the Free National Movement (FNM), has called the Prime Minister's announcement of a deal over Baha Mar another example of "smoke and mirrors to hide the broken promises made by the PLP", pointing to a lack of specific details and accusing the government of "suspicious" deals with the Chinese.
In a statement early on Tuesday morning, Dr Minnis said:
"On behalf of the thousands of unemployed Bahamians, the Free National Movement welcomes the announcement made by the Prime Minister that an agreement has been reached with CCA to complete the Baha Mar project; however the Free National Movement is concerned and troubled by the lack of specificity in the announcement.

"While the FNM believes the opening of Baha Mar is important to this country and to the welfare of every Bahamian we believe that no deal made by the government should put The Bahamas and the Bahamian people in further jeopardy. The FNM has always stood for the Bahamian people and will continue to fight for them, therefore we are concerned with the amount of secrecy and lack of transparency that clouded this agreement.
"It is apparent that the embattled Prime Minister Christie and his PLP Government are once again trying to use smoke and mirrors to hide the broken promises made by the PLP. Is it a coincidence that only hours before the national address the country's credit rating was once again downgraded by the International Rating Agency, Moody's?

"Tonight's hastily convened address does nothing to satisfy the needs and worries of the Bahamian people. The lack of specificity only proves that the Prime Minister and the PLP are trying to hide the suspicious deals they have made with the Chinese since the Prime Minister was unwilling to reveal what additional concessions were demanded by the Chinese in order for them to agree to the deal.
"The Prime Minister and the PLP have already failed us multiple times on the Baha Mar Resort and now that their jobs are on the line they are willing to do anything to get the resort opened before the next election.
"The Prime Minister must come clean with the Bahamian people and answer the following questions. How many Bahamian jobs will be given to the Chinese? How many citizenships will be given away to Chinese nationals? Will the Bahamian contractors get paid in full the more than $100 million they are owed before construction starts again? Will Baha Mar pay the millions of dollars they owe in unpaid utility bills before additional utility services are supplied for construction?
"The Free National Movement calls on the Prime Minister to make all the details of this agreement public immediately so that the Bahamian people could be aware of the full details as soon as possible."