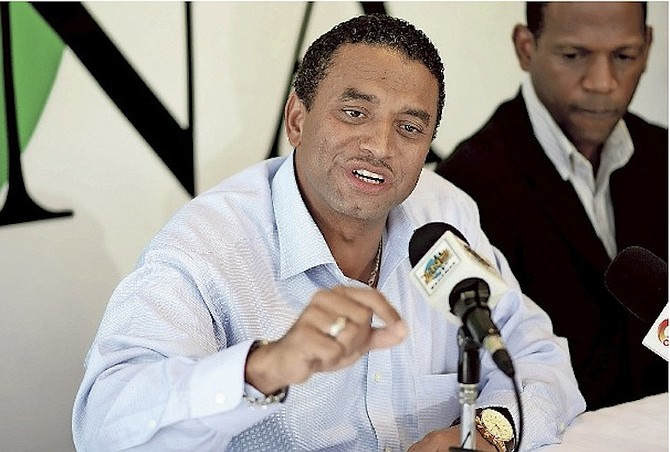 By RICARDO WELLS
Tribune Staff Reporter
rwells@tribunemedia.net
DEMOCRATIC National Alliance Leader Branville McCartney has accused Prime Minister Perry Christie of executing his usual "song and dance" routine in his announcement that construction at the $3.5bn Baha Mar resort is expected to resume by September.
Mr McCartney said the prime minister's actions on Monday night were eerily similar to his behaviour during the 2014 announcement that the government had successfully negotiated the return of majority stake in BTC to the Bahamian people - flanked by grinning ministers and cameras, but offering very little, if any details.
Under the terms of the agreement announced by Mr Christie, Export-Import (EXIM) Bank of China has committed to fund all remaining construction costs to complete the project.
Additionally, China Construction America (CCA) would resume and complete construction, and then sell the property to a "world-class hotel and casino operator".
Moreover, Bahamian contractors still owed money will receive a significant part, if not all, of their claims, while thousands of former Baha Mar employees will receive outstanding amounts due to them.
However, Mr Christie stopped short of naming the operator tapped to buy the resort once completed.
Mr McCartney accused the prime minister of being selectively tight-lipped with the information he presented on Monday.
According to him, Mr Christie glossed over information that would have clarified the terms of negotiation between the EXIM Bank, CCA and the Bahamian government.
"But our prime minister can be clear when he wants to be," Mr McCartney said. "He was very clear when he announced that the Chinese Export Import Bank had agreed to fund 'all remaining costs to complete the resort' and that CCA will finish the work.
"… The same CCA that has failed to meet two of its own self-imposed construction deadlines, will be given hundreds of millions, possibly over a billion dollars to finish a resort that they messed up in the first place," he added.
The former Bamboo Town MP asserted that Mr Christie, in all his "pomp and glory", sought to evoke a sense of pity from the Bahamian people for all the "hard work" that he and his team had done to jump-start the Cable Beach mega resort.
However, Mr McCartney claimed that Mr Christie has again failed to point out his intimate role in creating "this mess."
Mr McCartney said for 20 months, Bahamian people, workers, investors and contractors owed millions by the resort, had to suffer and watch with "utter bewilderment" as CCA was able start construction on another hotel development, the Pointe, "right in front of their eyes."
He said Bahamian people went from being assured that they would get 100 cents on the dollar, to being promised "a significant part, and possibly all the value of their claims".
He questioned why Bahamians are not being used to complete the resort.
"We also note as well that the government of the Bahamas and the Bahamian utility companies, such as BPL/BEC, will receive payment for 'some' of their outstanding claims against Baha Mar," Mr McCartney said.
"So the Bahamian public purse, that was already being depleted, will have to take another hit so that a Chinese construction company can be made whole. What happened to CCA taking a cut for their outstanding, unsubstantiated, questionable billings that we have read so much about?"
Mr McCartney said the only commendable detail that could be derived from Mr Christie's address was that former Baha Mar employees would receive money owed to them.
He further speculated that the payments due to these former employees would be taken out of the unpaid government taxes owed to the government by CCA.
He said a real deal would have been providing opportunities for Bahamian contractors to complete the resort, collecting all the taxes that were owed to the Bahamian people, paying the thousands of former workers their outstanding monies and getting the country from underneath a construction company that "appears to have this government by the throat."
Mr McCartney said he is very interested to know what sort of concessions were given to CCA to make this deal possible on the eve of a Moody's financial downgrade for the country.
He further speculated that the Christie administration was forced into this deal as a result of Monday's credit downgrade and CCA's move to ship their workers out of this country after delays in the permit applications at The Pointe.