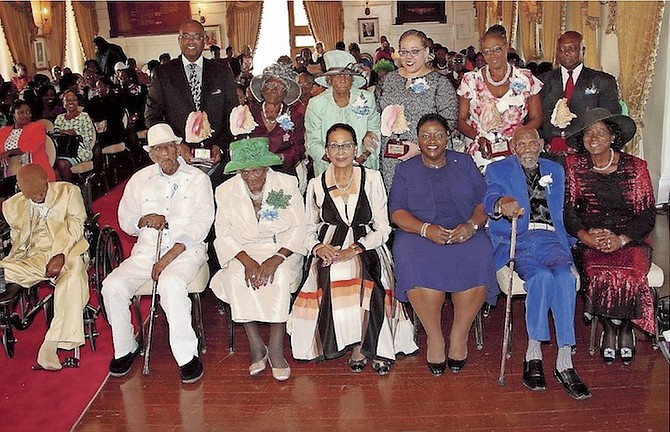 THE Ministry of Social Services and Community Development in conjunction with the National Council on Older Persons honoured 11 centenarians from across the country at the 19th annual Nation Builders Awards ceremony at Government House on Tuesday.
During the ceremony, Minister of Social Services and Community Development Melanie Griffin explained that improved healthcare and focus on healthy lifestyles has led to longevity of life.
She said nation builders are the bedrock of the Bahamian society. "Whether it has been at the forefront of the battle or as foot soldiers in the trenches, they have set the pace and provided the foundation on which we build today. We are truly grateful to them for their commitment and service in the face of seemingly insurmountable odds."
Governor General Dame Marguerite Pindling presented the awards to those being honoured during the ceremony.
On October 1, 2016, the Bahamas joined the General Assembly of The United Nations in celebration of its 26th International Day of Older Persons.
The theme for this year is 'Take a Stand Against Ageism'. Mrs Griffin explained that ageism is defined as a widely prejudiced attitude against older persons.
"In its simplest form, ageism is discrimination based on age and finds expression in many individual attitudes, some institutional policies and practices.
"Ageism assumes that discrimination against older persons is acceptable and manifests itself in both individual and institutional behaviours and in decisions that can have a significant and negative impact on the lives of older persons, contributing to their marginalisation and social exclusion.
"The International Day of Older Persons provides countries with opportunities to bring focus and public awareness to issues facing our older population. It also provides us with the opportunity to recognise the numerous positive contributions made by older persons to nation building, throughout the Commonwealth of The Bahamas. Additionally, it gives us the occasion to say thank you."