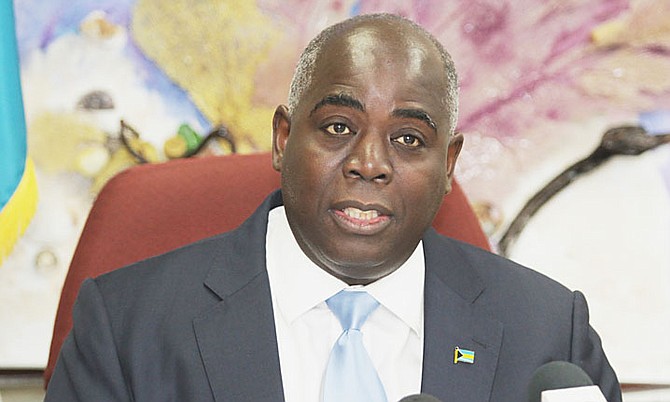 By SANCHESKA DORSETT
Tribune Staff Reporter
sdorsett@tribunemedia.net
DESPITE three island-wide blackouts and frequent supply disruptions in the past few days, Deputy Prime Minister Phillip Brave Davis has said he has "no regrets" handing over the day-to-day operations of the former Bahamas Electricity Corporation (BEC) to PowerSecure.
Mr Davis, who is also the Minister of Works, told The Tribune he thinks Bahamas Power and Light (BPL) is "meeting its mandate" and blamed the constant power outages on "aged machines".
New Providence residents suffered another island-wide power outage yesterday following a weekend of electricity challenges. Residents complained of intermittent outages on Friday and Saturday.
Last Thursday, BPL blamed a "damaged underground cable" for blackouts on Tuesday and Wednesday and customers were warned at the time that they may experience "intermittent challenges with their power supply until operations have stabilised".
"I have no regrets, because I think BPL is meeting its mandate as we have outlined it," Mr Davis said when asked about the frequent power cuts.
"The challenge has been we still have the aged engines and we have not been able to address them in the way we had anticipated much earlier. That requires capital. Remembering that BPL is still a Bahamian-owned entity and they look to government for the raising of their capital, therein lies the challenge at the moment. We need to be able to replace the aged engines and that is what is giving us the challenge that we have today.
"I think reliability has been improved. What I say to residents that you would have seen improvements in reliability, you would have seen improvements in the bottom line of your bills since 2012. Take heart from that to realise that we will fulfil the other end of the bargain, that is reliable generation, which will come and replace those engines that are aged."
Despite Mr Davis' claim that light bills have decreased, angry BPL consumers have openly criticised the electricity provider for higher-than-normal billing, especially following Hurricane Matthew.
Many consumers told The Tribune they simply could not understand the "extraordinarily" high bills they were sent post-storm, with several rejecting BPL's claims of using "historical usage data" that was specific to each customer's account to calculate billing.
Yesterday, New Providence experienced another island-wide outage around 2pm. When The Tribune spoke to President of the Bahamas Electrical Workers Union Paul Maynard around 4.30pm, he indicated that the company "had no idea" what caused the problem.
"All we know right know is that several engines shut down at Baillou Hill (power station) and we are trying to get them back on but these engines are old, there is only so much we can do."
BPL posted updates about the blackout on its Facebook page.
Around 4pm, the company said BPL said teams were working to restart engines and eventually begin restoring power to customers.
"BPL apologises for the system instability issues today and in the past few days and assures you that every reasonable effort is being made to correct the problems. We will continue to update you on the progress of our restoration effort," the brief statement said.
Around 7.30pm, BPL said it had begun restoring power to some areas as it asked for patience, saying the process would be a slow one.
"Despite some challenges restarting engines, BPL has managed to get several units back up and running and has started to restore power in New Providence," the company said on Facebook.
"We do advise that given the existing system instability, this will be a slow process as we work to restore power without causing another total system shutdown."
Irate residents vented their frustrations on BPL's Facebook page.
"No one is interested in apologies, especially after the 'over-estimated' bills we just paid," one person wrote.
"Grown folks with grown folks stuff to do require power. It's laughable that you guys managed millions of households in the United States but are unable to manage a couple of hundred thousand here. This is simply unacceptable as that crappy apology. We should have some recourse. URCA please do your job. Bahamian people deserve better."
Another customer said: "BPL you are messing up my appliances. Who is going to fix my TVs, refrigerator, microwave, freezer, radios etc? Your business in this country is not welcomed in the least. Why don't you just leave and go back to your own country? This is unacceptable."
BPL said it would continue to provide updates via its Facebook page.
American company PowerSecure took over management of BPL, formerly BEC, earlier this year.