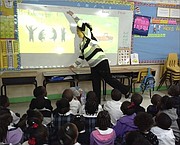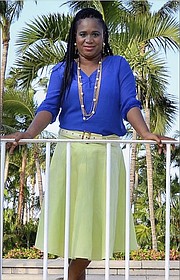 By ALESHA CADET
Tribune Features Reporter
acadet@tribunemedia.net
LABELLING herself as "one of the biggest book geeks ever", Stephaney Davis' dream is to get every child to be as "weird" as she is, ensuring that each child's mind is fed with the words from a book that will encourage their creativity and catapult them to a divine destiny.
Hence the inspiration to start her educational company 'Connection to Creativity', whose purpose is to bring magic back into reading by creating fun and interactive programmes and events for children through the country.

"We want each child reading before they leave primary school," Stephaney told Tribune Woman. "I think if you teach a man how to fish, he will have that skill set with him always. He will be able to impact his community, country and then eventually the world. Teaching and sharing reading programmes can do for a child's life. Hence we ensure that, at the majority of our programmes, kids leave with a book of their own to keep that magic alive at home."
Going into depth about the motivation to start the organisation, Stephaney added that her own son was not a strong reader. As he was embarrassed by it, she tried to create fun activities to get him excited about reading.
"Books capture the mind, ignite creativity and capture the hearts of readers. Books inspire, motivate and show possibilities. Books plant seeds that will fashion and pattern a child's future. I love to see the smiles on the kids' faces at one of our events or programmes where we creatively bring the magic to life. The positive impact we make on the next generation is a huge benefit," said Stephaney.

The vision is to create fun programmes and events for kids in the Bahamas - and eventually the world. 'Connection to Creativity' is known to have hosted and been a part of successful events such as 'Twinkle Perfect Fairy Party', 'Tickle Me Pink Princess Party' and 'Ready Set Read'.
"We have two more events for the rest of the year; one is called Literacy with Love for Stephen Dillet Primary School. We are asking the public to assist the school in purchasing books. The objective is for volunteers to purchases books for the students. We want to help the School to eradicate illiteracy. The second event is a fun one called Santa's Hustle to be held on December 18 at the Kendall Isaac Gym. It takes kids through the various jobs Santa had to have before he could be Santa. The inspiration is from the book How Santa Got His job book by Stephen Krensky," said Stephaney.

She is looking forward to a major year as 2017 approaches. Without revealing too much Stephaney said readers can expect their "Swap and Read" program to take place at the South Beach Library in the new year. " We want to bring more awareness to local authors in the Bahamas. We are that bridge between author and reader where the mysteries will be reveal at our events," she said.