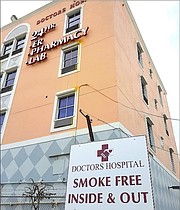 IN ITS continued efforts to encourage staff, patients, visitors and the wider public to adopt a healthier lifestyle and also to create the safest possible environment for those who frequent the institution, Doctors Hospital has become a smoke-free environment.
"While we have long prohibited smoking inside our buildings, in order to create the healthiest surroundings for patients, visitors and our Associates, Doctors Hospital now requests that smokers refrain from lighting up while anywhere on property," Charles Sealy, CEO, has announced.
The smoke-free environment extends to the areas near all entrances to and exits from the main hospital as well as satellite buildings on Collins Avenue, Shirley Street and Dowdeswell Street, all hospital parking lots and also the outdoor patio within the centre of the main building that has often been used as a smoking area.
Doctors Hospital is the first Joint Commission International-accredited acute care hospital in the Caribbean and adheres to the standards set out by that organisation.
"We at Doctors Hospital are, in fact, going beyond the JCI requirements regarding tobacco use," Dr Charles Diggiss, Chief Medical Officer, said. "JCI requires all of its accredited hospitals to prohibit smoking in buildings and allow it only in places that are 'physically separate from care, treatment and service areas'. We are going the extra step with this because we know that in addition to the well known health problems associated with tobacco use and exposure, when it comes to hospitalised patients, smoking hinders wound care, increases infection rates in surgeries and is the most common cause of poor birth outcomes."
The new policy, which will also protect non-smokers among the hospital's staff and patients from the known hazards of second-hand smoke, is being communicated throughout the hospital so that all patients and visitors are aware of the change.
"We have worked with our Associates to educate them on the importance of this new policy against tobacco use at the hospital and have asked them to assist in communicating the policy and the reasons for it to patients and visitors," said Paul Haven, Vice President of Human Resources. "Doctors Hospital has a responsibility to protect those in our community while promoting and supporting a culture of living a healthier lifestyle."