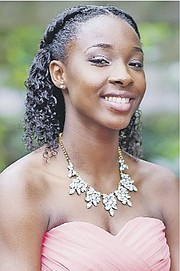 By JEFFARAH GIBSON
Tribune Features Writer
jgibson@tribunemedia.net
THE "special" way Monika Cunningham drew stick figures during art class in the first grade was a clear indication that she had a talent that required nurturing if her full potential was to be realised.
Encouraged by her first grade teacher at Xavier's Lower School, a flame was ignited in Monika that has yet to dim. In fact, as long as she has the ability to produce art, her passion will burn continuously.
The 18-year-old aspiring artist is currently studying Fine Art and Marketing at the University of Central Arkansas. She received top scores in the country for the art and design in the Bahamas Junior Certificate (BJC) examinations and overall top scores in art in her graduating class at St Augustine's College this summer.
She also started her own t-shirt company, MoniAnne Designs, in 2015 which continues to grow.
"I am very passionate about art and think it is important to try to develop the art perspective of Bahamians so we can appreciate our culture's true value. I set extremely high goals for myself and I work on my dreams every day," Monika said. Her dream is to become a local art legend by constantly creating high quality art work that has the power to provoke thought and emotions in viewers and she hopes the work featured in her upcoming solo showcase "EleMents" does just that.
The showcase, which bears the slogan and hashtag "Art heals", will be held at St Francis Xavier Cathedral on December 21 from 6.30 to 8pm. The pieces in the show seek to foster an appreciation for the natural aspects of life and understanding its connection to human beings.

"It reflects the beauty of nature and how sometimes we can learn a thing or to from just observing our surroundings," Monika told Tribue Woman. "My goal was to emphasise the things we may take for granted like water, animals and wisdom. Some of the pieces were created after the reflection on the events of Hurricane Matthew and how I believe that powerful, traumatic storm came to remind us to live humbly and be grateful and graceful for the beauty around."


Inspiration for Monika comes from her surroundings, the natural environment or the people she comes into contact with. "I use my art as a way to express myself and I hope to share that with others too. If you are upset, depressed, joyful or inspired use art to express it. It doesn't have to be painting; it can be music, writing, sculpture etc.
"I love art/painting because you can literally create whatever you want. There is no such thing as messing up. I feel the paint moving across the canvas from the brush is calming. It is also empowering because I am in control. No one can see what is in my mind but me or foresee my piece and that for me is a thrill," she said.
Monika's work is comprised primarily of acrylic paintings. However, she also creates semi-realistic renderings, graphic design art for her t-shirts and a little bit of Junkanoo art work.
"My goal is to become one of the Bahamian art legends like Brent Malone or Marco Mullings who have helped shape my art career. I also want to become internationally known for my work. I also want to own an advertising agency and art gallery and to inspire persons around me helping expression and communication to improve," she said.
Monika was one the youngest artists to exhibit in the annual Wine and Art Festival at the Bahamas National Trust. She was also a finalist in the Atlantis Aspiring Artist Competition and the Central Bank art competition this year.