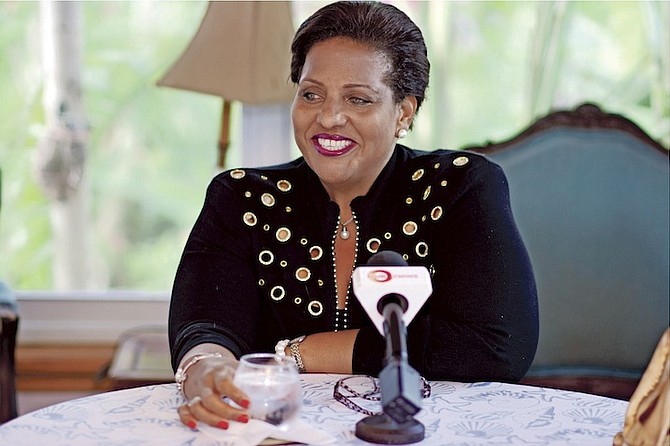 By KHRISNA VIRGIL
Deputy Chief Reporter
kvirgil@tribunemedia.net
THE revocation of her candidacy for the Long Island constituency is "sad" but not "surprising," Free National Movement MP Loretta Butler-Turner told reporters yesterday while insisting that the "rebel seven" were not the enemies of the fractured party.
She revealed that despite FNM Leader Dr Hubert Minnis' announcement to a raucous crowd on Wednesday night that her ratification was rescinded, she had yet to receive a formal notice from the party of the decision, but "would not lose sleep" over it.
Asked whether this position had led her to make a decision to run as an Independent or on the Democratic National Alliance's (DNA) ticket, Mrs Butler-Turner said she had not got to that point in the process yet.
The Long Island MP criticised the hierarchy of the FNM saying it was "reprehensible" that executives did not understand their own party's constitution in response to rumblings that the group would be expelled from the organisation.
However, she told reporters during a press conference yesterday that she would not waste her time fighting party machinery, adding that only the Bahamian people could fire her.
"What is probably most sad for me is that I have been an FNM for many, many years and having carried the banner for the FNM, being the standard bearer in two previous elections, you know it's certainly an honour," Mrs Butler-Turner said yesterday. "I believe that the party still has the philosophies and ideologies that I ascribe to and the fact that I am revoked is something that I guess I'll have to get used to.
"I think there is value in being a standard bearer for a major political party, but at the end of the day, if that is the decision the party makes I am not in the process at this stage and wanting to work for the betterment of the Bahamas to prolong the process the party wants to take. I believe that the Bahamian people, Long Island residents in particular, are the only ones that can really fire me.
"I believe the covenant between me and them certainly has a lot to do with party affiliation, but it also has a lot to do with the performance of the person who represents them. So I will have to make my case to them and they will have to make their decision. I am not going to lose any sleep over it. We will make the appropriate response with regards to what the seven MPs do as a whole.
"I think we have got to move away from personalising the event and look at it more objectively. Essentially the Bahamian people are tired of the drama. I'm not going to heighten that drama any more.
"We are going to continue on with our process of trying to build and unify some opposition forces and to place in the hands of Bahamians a plan of help and hope for a brighter Bahamas."
She also said: "The enemy is not the FNM. What the FNM is doing to all seven of us is creating us as being the enemy, but in my estimation that's fine. If that's the internal battle we are going to continue to be divided with and be divided by a leader that is not for unification. So the enemy in my estimation is the government of the Bahamas, which is proven to be inept (and) riddled with cronyism and nepotism and basically out of touch with the Bahamian people.
"My battle is not with the FNM. The FNM has a battle with seven upstanding individuals who exercised their democratic right upheld by the Constitution of the Bahamas and the parliamentary system. So if that is the way that the FNM wants to go down, I'm not going to stop them, let them continue.
"You know what is most reprehensible? When we have people sitting in the hierarchy of our party and not even knowing and understanding the constitution of our party.
"So this revocation comes as no surprise. When there was a council meeting last Monday night the whole cry all throughout was that they were going to expel all seven of us from the party. That came from those who were giving the directives. Not until they received counsel on our constitution did they realise it doesn't happen like that. The bottom line is if they could have expelled us last week with the powers of the constitution, we would have all been expelled."
Responding to speculation that attorney and Tribune columnist Adrian Gibson was one of the names tossed around for consideration to replace her, Mrs Butler-Turner said she believed this had always been in the works. For several months it was rumoured that Mr Gibson had been quietly campaigning against the MP.
"How is it a columnist that goes in the newspaper does not publicly declare their interest to run against someone and denigrates them in their column constantly? I don't have an issue with anyone running against me, but you know at least declare your interests and then write your column and decide what you want to do.
"It's no secret. As a matter of fact just a few weeks ago I told Dr Minnis on the stairs of the house of Parliament that Adrian Gibson was purportedly telling people who have supported me in the past that not to worry I am not the party's choice. That he is actually the choice and he'll be running as an Independent.
"Surprise. It's all been happening. You know the reality is this, there are many people that do not know the real issues, but I don't think that the Bahamas really wants to get embroiled in back room deals and so it is as we say what it is," she said.
On Wednesday night Dr Minnis said during a rally that the party's council rescinded Mrs Butler-Turner's nomination.
One of his final messages to the crowd of several hundred gathered at FNM headquarters, his announcement, for many in attendance, climaxed an event that was transformed from a typical candidate ratification into a loud, defiant show of strength amid unprecedented crisis for his party.
The late Ray Charles' "Hit the Road Jack" blared from speakers following his announcement.
"Yes, yes!" some shouted. Others waved pom-poms.
"You did not deserve what those seven MPs did to us," Dr Minnis said, referring to last week's decision by his colleagues to oust him as leader of the Official Opposition.
"You did not deserve it."
In interviews with The Tribune, FNM supporters said the "rebel seven" acted as they did because they were motivated by greed.