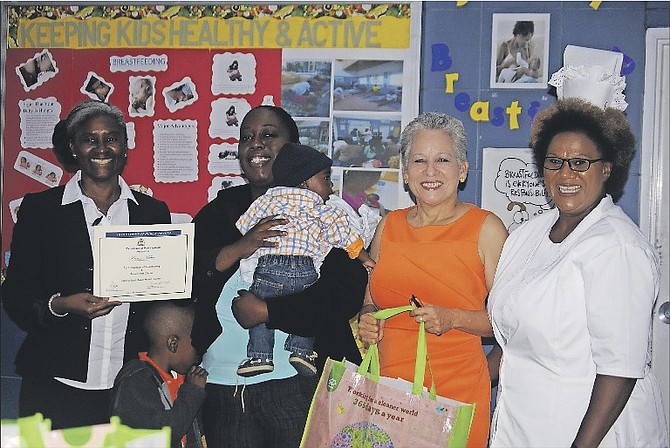 By Felicity Ingraham
The Bahamas National Breastfeeding Association closed out its year of activities with a Breastfeeding and Parent Craft graduation ceremony, where mothers were honoured for completing weeks of training to help them become better parents.  
As simple as breastfeeding may seem, there are a myriad of reasons why mothers give up and do not breastfeed their children.
The BNBA sought to decrease the amount of mothers who give their babies formula by providing classes. 
In addition to advice on breastfeeding, those attending the course shared lessons they learned on how to better plan families, how to become better parents, and other important life skills.  
Minister of Transport and Aviation Glenys Hanna-Martin gave the closing address at the graduation ceremony, congratulating the mothers who considered the classes important enough to attend through to completion. 
She also applauded them for doing their part in decreasing the rate of violent crime and social ills in the country, simply by making the right decision from day one – putting the baby to the breast.
Mrs Hanna-Martin pointed out that the stigma attached to mothers who breastfeed in public must be eradicated and be replaced by encouragement and support.
No amount of formula, she said, could replace the love, bonding and health benefits derived from breastfeeding.  
The graduation ceremony, held at the South Beach Clinic, brought together many mothers of all ages who became friends while attending the classes together at the various government clinics throughout New Providence. 
Many of the mothers breastfed throughout the ceremony, and three of them took to the podium to share their pleasurable experiences with breastfeeding.
One of the mothers had a baby born sick; although he spent a month in the hospital before going home, the mother pumped milk and took it to the hospital for him every day. She said the nurses were accomodating towards her as she successfully gave her baby only breastmilk by cup until he was able to come home and feed straight from the breast.  
Nurses Yolander Bullard, Tamika Gibson, Maxine Brown, Juanita Rolle and Gina Dean assisted in the graduation, which spearheaded by BNBA President Carlotta Klass, coordinator Trineka Hall and information officer Linelle Thompson.  
Each graduate received a certificate as well as a gift bag filled with useful items for mothers and babies from Lowe's Wholesale, Bahamas Wholesale Agency, Dr Reginald Carey, and the D'Albenas Agency.