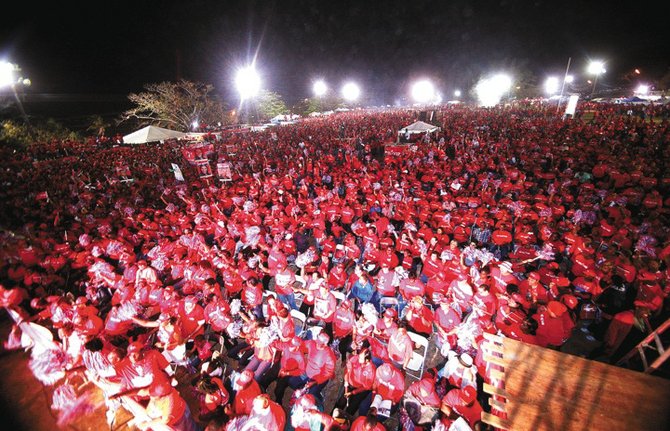 By KHRISNA VIRGIL
Tribune Staff Reporter
kvirgil@tribunemedia.net
A FORMER Free National Movement MP who lost his bid to be re-elected during the 2012 general election, has insisted that the party is facing financial troubles with several of its main funders threatening to "abandon ship" if the infighting and leadership issues are not resolved. Speaking to The Tribune on the condition of anonymity, the former MP said the financial woes have also spilled over to those FNMs who want to begin their individual election campaigns.
"The reality is there are major supporters who provide financial support to the party who have said they will abandon ship if we don't get this together," the former MP said during a recent interview.
"There are now and will continue to be major funding issues if we cannot resolve these issues which have become very public. We have to resolve it.
"It has also come down to individuals saying they are not willing to fund individual campaigns unless certain issues are resolved. So this is going down to the candidates level as well."
However, when contacted for comment on the matter yesterday, former Deputy Prime Minister Brent Symonette admitted that at this stage in the game, donors are usually hesitant to give money, especially to a party that is in opposition.

He added that he remained confident that this would not be an issue once the party holds its convention and the controversy over the party's leadership is put to rest.
Mr Symonette said: "People aren't often that willing to give to a party, especially one that is not in power. And I am sure the infighting all over the place hasn't helped.
"But when we have the convention and that's sorted out and resolved, the donors will be willing to give to the party for a successful campaign.
"So I don't see it as something that will be an issue," he added.
Meanwhile, angry FNMs have told this newspaper that the announcement of a party convention by November is proof of yet another strategy by leader Dr Hubert Minnis to hold on to his position.
Party insiders also said there are some who feel a convention should be held as early as April to allow the party to get over its leadership issues with adequate time to position itself for the 2017 general election.
On Friday, Dr Minnis announced that the National Executive Committee, at his invitation, unanimously recommended to the Central Council that a full convention be held no later than November 30.
He said a vote on the matter would take place at or before the next regular council meeting.
"(Mr Minnis) will benefit from a November convention," said one FNM member, who did not want to be named. "It ultimately minimises the possibility of anyone challenging the post. It leaves just six months before when the next election is expected."
There have been persistent calls over the past few months for the party to hold a new convention.
Against this backdrop, party Chairman Michael Pintard said earlier this month that there was a possibility that the event could be non-voting, but stressed that there were continued talks on the issue.
This prompted Mr Symonette to question whether Dr Minnis was comfortable in his position at the helm of the party, adding that there should be no question of whether the next convention should have executive posts up for a challenge.
Frank Watson, another former deputy prime minister and senior member of the FNM, said last week that only an "insecure" leader would hold a non-voting convention.
The FNM's constitution specifies that the organisation should have a convention every two years.
Dr Minnis was re-elected to lead the party on November 21, 2014 after defeating Long Island MP Loretta Butler-Turner in the leadership contest.