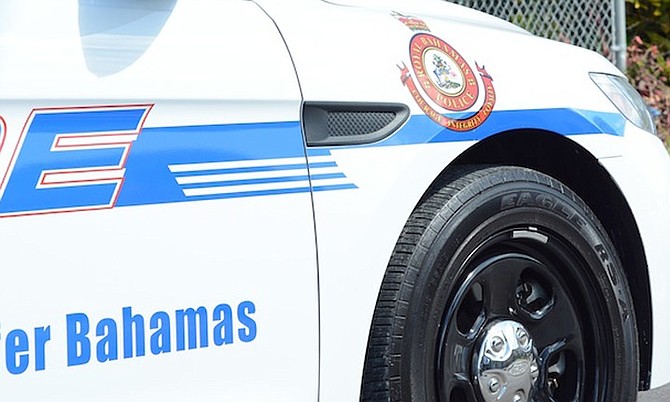 By LAMECH JOHNSON
Tribune Staff Reporter
ljohnson@tribunemedia.net
AN ISLAND wide-manhunt was underway yesterday afternoon for a convicted murderer who escaped from custody on his way to the Bahamas Department of Correctional Services.
According to police, 26-year-old Ormand Leon escaped from a police bus on York Street, off East Bay Street, while being taken to prison around noon. Leon had just left a Supreme Court hearing where he was told he would be sentenced for murder in two weeks.
Yesterday, officers flooded the inner city looking for the convict who is considered "armed and dangerous".
"For some reason he did not want the court's justice, so we are here to look for him and to bring him to justice," Senior Assistant Commissioner of Police Leon Bethel told reporters on Key West Street. "We are not going to stop until we find him. We have information that he is already linked up with some of his associates and I want to warn those (people) now, they better turn him in. We are going to be searching every crease and corner to find him, he's not going to sleep."
Leon is described as a brown-skinned male, of slim build, who is said to be about 5ft 9in to 5ft 11in. Police said he frequents Moore Avenue, Homestead Street and Miami Street. He was last seen wearing a white T-shirt and blue jeans.
Police urged members of the public not to approach him but instead to call 919 or Crime Stoppers at 328-TIPS (8477) if he is seen.
Moments before the escape, Leon was told by Justice Bernard Turner that he would learn on February 16 what sentence would be imposed on him for the July 10, 2011 murder of Fransisco Hanna.
Leon is facing up to 60 years imprisonment for the Wilson Tract shooting.
Hanna was shot twice in the chest and three times in his right arm. He died of his injuries at the scene.
At trial, the prosecution produced a video confession of Leon telling police how he and his alleged accomplice had followed Hanna on the night in question, switched cars after almost being found out and then fled the area after the shooting.
Leon contended that the video confession was the result of inducement for his release from custody at the time. However, he exercised his right to remain silent when called on to give a defence.
Dennis Mather, 24, Leon's alleged accomplice, was acquitted days prior to the verdict following the direction of Justice Turner to the jury that stemmed from legal submissions held in the panel's absence on the close of the Crown's case against the pair.
Both Leon and Mather had maintained their innocence in Hanna's death and were respectively represented by Terrel Butler and Damian Whyte.
Darnell Dorsett prosecuted the case.
During the sentencing hearing before Justice Turner yesterday, Ms Butler submitted that notwithstanding the seriousness of the offence, the court could not ignore the full circumstances of the evidence by the Crown.
"Mr Leon from the facts of the case, was not the trigger man," Ms Butler said.
"Evidence was that he was the driver and he dropped off the man and when he returned, the trigger man informed him he'd killed someone. Based on the minimal role he played, I'd ask the court to bear that in mind," the court heard.
"He's a young man who had never been in trouble with the police before. Persons whom he had worked with spoke positively of him. If he's returned to society, he could make a meaningful contribution to society. And notwithstanding he was involved in a fight that he was trying to break up at the prison, there is no other mention of him breaking rules at the prison," Leon's lawyer said.
Ms Butler acknowledged the Court of Appeal decision in the murder appeal of Larry Raymond Jones, where the court provides a 30 to 60 year range for cases where the death penalty is not appropriate.
"As m'lord is aware, however, those figures are not set in stone and you could go below 30 years," Ms Butler said. "Precedent has been set by fellow judges in other courts where persons convicted of murder and had a direct role, have received lesser sentence."
"I refer to the case of Donna Vasyli. Her defence, like my client's defence, was a denial. In that case, no other person was involved in the killing and she was given 20 years. I respectfully asked the court to consider imposing the same as in Mr Leon's case, based on the evidence, his role was minimal and he didn't pull the trigger on anyone," Ms Butler said.
In response, prosecutor Dorsett said that Leon "has expressed no remorse for his role in the murder of Fransisco Hanna, a premeditated act that was committed as a joint enterprise."
Ms Dorsett urged the court to impose a sentence to protect civil society from like-minded individuals sufficient to condemn and deter such actions.