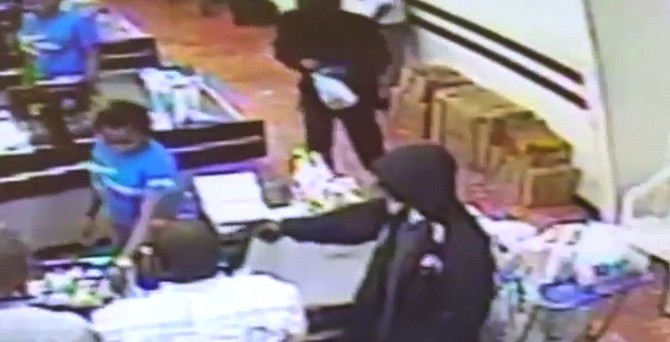 By SANCHESKA BROWN
Tribune Staff Reporter
sbrown@tribunemedia.net
POLICE are aggressively pursuing two armed men who robbed Super Value's Portion Control on Robinson Road on Thursday evening.
According to reports and a video released by police, shortly after 7pm, two masked men with handguns entered the store and robbed three cashiers of an undetermined amount of money before fleeing on foot.
Super Value owner Rupert Roberts told The Tribune on Friday that this latest robbery is the fourth this year but he is positive the thieves are "disappointed every time" to discover not a lot of money is kept in the registers.
Regarding Thursday night's robbery, Mr Roberts said the suspects "couldn't have got more than a couple hundred bucks. We sweep the registers every $500, so they can never get more than that out of the register. There were three cashiers that got robbed, so they only got a couple hundred bucks at best, that is certainly not worth going to jail.
"So the manager of the store was at the front door when the thieves came in. They told him 'Come with us' and he went with them a certain distance and managed to elude them, where he went in the back and radioed in the robbery and called the police.
"I happened to be on the phone with the operations manager and I heard him come over the radio saying 'robbery in number nine'. At that point several persons had called the police and who happened to be in the area at the time. So they came and gave chase to the suspects but I guess the police lost them."
Mr Roberts said there has been an increase in robberies in the past few months and while he doesn't think the food store chain is being targeted, he said he believes the thieves assume "we make a lot of money and they go where the money is".
"The robberies have intensified lately," Mr Roberts confirmed. "Two weeks ago on a Thursday night as well, we had a robbery on top of the hill Mackey Street. About a month ago, we had a robbery at our Prince Charles location where they destroyed the Commonwealth Bank ATM trying to get money out of it.
"Of course they didn't get anything because it is near impossible to get into but they totally destroyed it. Then two weeks before that there was another roof robbery at the Prince Charles location.
"Our employees are trained for this kind of thing; we train them to be security of course though the thieves are more vigilant and our employees tend to get busy but they do what they can."
Police have released a surveillance video from Thursday night showing the two men and are asking anyone with information on the identity or location of the two suspects to contact them at 911 or 919, the Central Detective Unit at 502-9991 or Crime Stoppers anonymously at 328-TIPS.