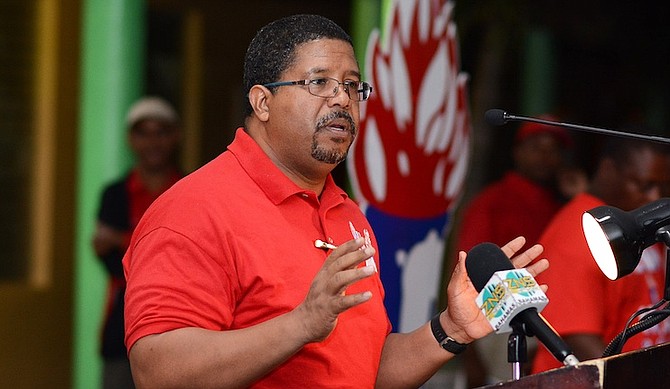 By SANCHESKA BROWN
Tribune Staff Reporter
sbrown@tribunemedia.net
FNM DEPUTY Leader Peter Turnquest yesterday said it seems the government and the Bahamas National Festival Commission "have not learned anything" from the failure of last year's Junkanoo Carnival and are "back to making the same mistakes."
In an interview with The Tribune, Mr Turnquest demanded to know the budget of this year's festival, the committee's marketing plan and which act would headline the event's main concert.
His comments came one day after the BNFC announced the dates for this year's festival in New Providence and Grand Bahama.
"It's the same deal again and the question is, is there a budget being put together? Is a proper structure of the organisation being put together? One of the big things last year was the going over budget by millions, the control of cash was free and non-existent," Mr Turnquest said.

"Why haven't they outlined the objective? When are they going to show us a plan? What are they doing for marketing? Who is performing? Where is the list of activities for this function? Show us something. Show us the financial plan. This thing is happening in three months and they seem to just barely be getting started. I thought Junkanoo Carnival was to get 'heads in beds'. Tourists plan for months for this type of event and as it stands there is nothing to even tell them. It's obvious no one learned from the mistakes of last year."
The BNFC held its first planning meeting for carnival in mid-January.
At the time, Minister of Tourism Obie Wilchcombe said the BNFC had been mandated by Prime Minister Perry Christie to create opportunities for entrepreneurship and cultural expression.
However, he could not say how much money has been budgeted for the controversial event.
The government budgeted $9m for the inaugural Junkanoo Carnival, but due to cost overruns and other failures on the part of the commission, that spending ballooned to $11.3 million.
BNFC officials have said this year's event will cost less than what was spent in 2015.
However, Mr Turnquest said it seems as if the BNFC once again will have "no checks and balances."
The second Bahamas Junkanoo Carnival will take place on May 5-7 in New Providence, with a kick-off event from April 15-16 in Grand Bahama.
According to the BNFC, "intense planning is underway" for the 2016 event, which the group said will be "even better" than the inaugural festival.
The Grand Bahama kick-off will take place at Taino Beach while the main event will be staged at Da Cultural Village in Nassau.
Last year, organisers were criticised for poor planning, not enough international marketing and not announcing a headliner for the festival's concert sooner.
Mr Wilchcombe has said this year's festival would be more structured, better budgeted and constructed in such a way to guarantee a solid return on investment.