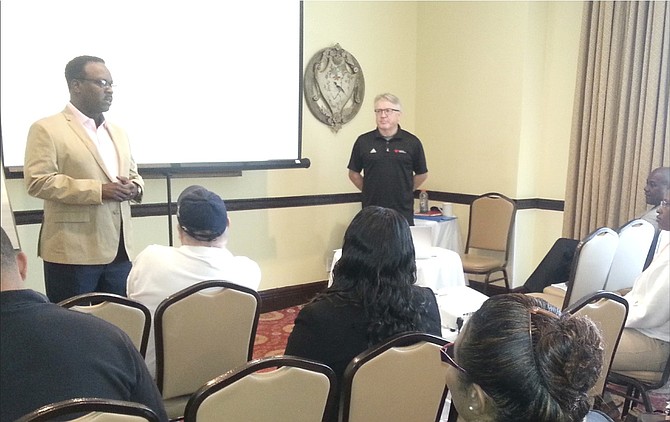 By BRENT STUBBS
Senior Sports Reporter
bstubbs@tribunemedia.net
THE Bahamas Olympic Committee has joined forces with the Caribbean Association of National Olympic Committees to put on a Sport For Life symposium.
The long-term athletic development and physical literacy programme, facilitated by Richard Way from Victoria BC, Canada, started yesterday at SuperClub Breezes, will wrap up today and is the first of five sessions that will be take place over an 18-month period.
At the end of the course, Way will return to the present the participants with their certification and help them to form a Bahamas branch of the organisation.
"Over the course of the 18 months, we will be teaching them how they can advance their particular sport," said Way, the chief executive officer for Sports For Life Society. "What we are doing with various countries in the world, including Canada, is trying to find ways to develop a long life in sports for the athletes."
After the Bahamas, Way will head to Haiti, Suriname, Trinidad & Tobago, St Vincent & the Grenadines and the Virgin Islands. Tthe second phrase of the course will be conducted in three months.
BOC president Wellington Miller said they partnered with CANOC to help administrators and coaches groom their athletes for longer careers in sports.
"We want to prolong their athletic careers. This is why we joined forces with CANOC to make sure that the Bahamas is a part of this long term event," Miller said. "We hope that through this programme, we we will develop the maturity in developing our athletes."
A number of coaches from primary schools as well as tennis, judo, rugby, cycling, boxing, participated in the seminar.
Minister of Youth, Sports and Culture Dr Daniel Johnson said the seminar comes at the right time for the Bahamas.
"We are moving towards a very big and bold sports calender over the next 125 months with 17 international events, so we have to spread our wings beyond just the track and field success that we have gotten," he said. "As people know, we now have the number one basketball male and female duo (in Chavano 'Buddy' Hield at Oklahoma and Jonquel Jones at George Washington) at the collegiate level and the number one female coach in Tampa (in Yolett McPhee-McCuin at Jacksonville University.
"We have 225 young men playing baseball in the United States at the various levels, we know our swimmers are poised to do great things, our rugby sevens team is emerging, we have the boxers coming up. We just have a lot more that we can do. Our soccer players are emerging and we are about to host the FIFA Beach World Cup and we also have the Commonwealth Youth Games and the Bahamas Games is coming back."
Johnson said the BOC and the Ministry will be working hand-in-hand to put on the Bahamas Youth Games, which will serve as a testing ground to prepare the country for the Commonwealth Youth Games next year.