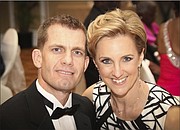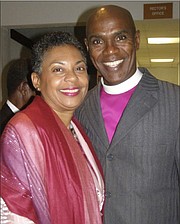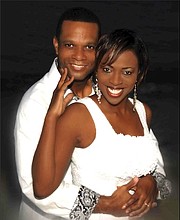 By JEFFARAH GIBSON
Tribune Features Writer
jgibson@tribunemedia.net
EVERY couple has their own, unique story about how their relationship came to be. And although Valentine's Day has come and gone, there is never a time when the inspiring effect that love has on us cannot be shared. Tribune Woman wanted to get romantic by getting some insight into the long-term relationships of a few prominent Bahamian women. Not only did these women share their love stories with us, they also had tips on how couples can keep the flame alive in their marriages.
Nurse Anita Cates
Anita Cates, is a nurse and diabetes educator with over 12 year's healthcare experience. She works alongside her husband, Dr Graham Cates, at the Family Medicine Centre, which they established together in 2003.
Q: How and when did you and your husband meet?
A: "I met Graham in February 1999. He was doing his surgery rotation at Hope Hospital, Salford, UK, and I was one of the surgical nurses. For six months Graham would check my shifts to see when I was on the ward so he could 'pop in' to see his patients and flirt with me. Needless to say, after six months of 'wooing' we went on our first date. It was quite cute really; it was a coffee for Graham and a cup of tea for me at the hospital canteen. After three hours of nonstop talking my tea was cold, and I knew I had met my man."
Q: What is the most romantic date/experience you had as a couple?
A: "We have been very fortunate to have had many fantastic, romantic experiences throughout our years together. We didn't decide to have children until five years into our marriage as we wanted to create a solid family foundation first and cement our marriage, and focus on one another. One of the most magical experiences for us was spending the weekend in a historic hotel in Cardiff, Wales. It had the charm of luxury romantic days gone by. It was Christmas time, and we snuggled up and opened our gifts together. This is one of my fondest memories."
Q: With a busy life and busy career, is it hard to squeeze in romantic gestures?
A: "As your life matures, children bounce into the picture and you get deep in your careers, romantic gestures become vital in keeping you connected with your soul mate. And it doesn't take much at all. What it takes is being intentional. Little things matter, like a cute WhatsApp message, a note on a desk, a gentle passing touch, or a cup of coffee in bed. Understanding what makes your partner feel loved is important. For us, daily words of affirmation and kind gestures keeps the romantic flame burning."
Q: What's your secret to keeping romance alive in your marriage?
A: "The secret to keeping romance alive in your marriage is communication and forgiveness. Graham and I enjoy being together; spending time with one another on a frequent basis is key for both of us. But that time has to go beyond the daily discussion of work and kids and household commitments. Having a safe relationship, someone who you can share your deepest feelings with is essential to intimacy at all levels. Date nights, days and weekends, should and must be scheduled to create those points of connection."
Lynn Terez Davis-Nixon
Now that she closed the chapter on her audacious character of Dynamite Daisy, actress Lynn Terez Davis-Nixon has even more time to spend with her husband Quintin.
Q: How and when did you and your husband meet?
A: "My husband and I met years ago when I was about 17; it was actually at Evangelistic Centre Church, ironically the same place my parents met over 50 years ago. We remained distant acquaintances, bumping into each other every few years, but when we did, we would talk for about an hour and share meaningful conversations about our challenges of being single, Christian and young. In January of 2011 we had yet another unplanned meeting, and that was it. After just a five-second hello from a distance, about an hour or so later I got a call on my cell phone (he had my number for at least ten years without using it) and it was him. We talked for a few minutes for him to assess my marital status. Then the next day I got a friendly text and then another call. The calling never stopped; we began a friendship that eventually blossomed into a relationship, courtship and marriage."
Q: What is the most romantic date/experience you had as a couple?
A: "After about a month or so of seeing each other, I thought it was official that we were a couple, so I said to Quincy one day driving in the car, 'I'm so glad we are in a relationship'. He burst my bubble and said, 'Hold on, we are not in a relationship Terez, but we are exclusively dating.' You know I wanted the floor to open up and swallow me. Having said that, I would say one of our most romantic dates was by my parents' home in West Ridge the night we officially started our relationship.

It was a normal evening visit. He had on some ugly green jogging pants and some purple and orange Nike tennis with a pullover; he was not looking spiffy at all. After getting something to eat from the kitchen and chatting in the den, he suddenly reached over for the first time, kissed me on my cheek and said, 'Terez, I love you, will you start a relationship with me? 'I was shocked and stunned and speechless, so I left him hanging for a few minutes while I processed what he had just asked for. I said yes."
Q: With a busy life and busy career, is it hard to squeeze in romantic gestures?
A: "Priority helps with that challenge, although I have at times a busy life and career. When we're in the car together, I keep my hands on his head for much of the drive. I send texts to remind my husband that I'm his number one fan and he sings love songs to me randomly and very often. When I made the commitment to be married, I accepted the fact that I had to slow down. My husband is big on birthdays, our wedding anniversary and Valentine's Day. He plans all our special dinners, except his birthday dinners, and what I think is so romantic is the fact he makes advance reservations and requests the menu be e-mailed, and even sometimes goes and scouts the restaurant ahead of time. He is a planner and I'm a spontaneous, but we work it together."
Q: What's your secret to keeping romance alive in your marriage?
A: "Let me recommend a very helpful book called 'The Five Love Languages' by Gary Chapman. In this book, Chapman proposes that we all give and receive love in different ways, or actually 'people speak different love languages'. The secret is to find out what language your spouse speaks and express your love in that language; not in the language you speak. Once you are speaking their 'language', they will feel loved by you and the romance will stay alive. So I pay attention to what makes him feel extra special and I load it on. Lastly, we talk a lot; sometimes in the wee wee hours of the morning.
"Here is my tip to those about to get married: Love is not a feeling; full stop. It's a choice that feelings accompany after action has been applied. Marriage is not for the immature and selfish. It takes effort, commitment and a third person beside you two – the Lord God."
Rev Angela Palacious
Rev Palacious – who was the first female Bahamian deacon (1999) and priest (2000) in the Anglican Diocese of the Bahamas – is married to Father James Palacious. This July, the couple will celebrate their 35th wedding anniversary – a milestone only few couples ever reach. Their love life, she said, is just exciting today as it was 35 years ago.
Q: How and when did you and your husband meet?
"We met in August of 1978 when I came home to teach at St Matthew's Primary School and he was the Diocesan Secretary in the office where I had to go to report for duty."
A: What is the most romantic date/experience you had as a couple?
"One of the most was a candlelight dinner on a cruise."
Q: With a busy life and busy career, is it hard to squeeze in romantic gestures?
A: "We prioritise time together as a part of that busy life, for example accepting joint speaking engagements, attending functions together if only one is involved, and travelling to them in one car whenever possible."
Q: What's your secret to keeping romance alive in your marriage?
A: "All of the following and more: Frequent short get-away trips, longer vacations together, evening devotions as a couple, cards and gifts, daily calls and chats on WhatsApp, china and crystal dinners at home, scented candles in every room, quiet background music at times, slow dancing at home, a queen size bed (not king), no TV watching in the bedroom unless on the treadmill, long talks, cooking together, gardening together, decorating the house together for each of the seasons (Christmas, Valentine's, Easter, birthdays, etcetera).
Over the course of 30 years Rev Palacious has done a lot of premarital and marital counselling. She shared a few thoughts on keeping the flame alive:
• Start with extensive premarital counselling and keep reading on the subject of marriage, parenting, etcetera, and get counselling early when unresolvable issues arise
• Date days or nights doing what you both enjoy (without children), for example a spa day together
• Matching bedtimes regularly for cuddling, prayer and other kinds of intimate activity
• No TV in the bedroom unless alone at home or you decide to watch a programme together after you have shared your day at length
• Settling differences quickly and quietly with love
• Managing anger without profanity, violence, or verbal abuse
• No abuse of any kind (infidelity is abuse)
• Openness, honesty and transparency when it comes to money, and try to have a common mind on borrowing, lending, saving and spending
• Counselling for addictions of any kind
• Some hobbies done jointly and others done separately
• Friends that support your marriage and some couples as friends who are happily married
• Communicate (listen attentively, speak respectfully)