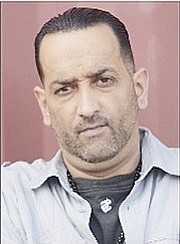 By INIGO NAUGHTY ZENICAZELAYA
I must admit after seeing the ESPN Top Ten NBA Players of All Time, I was haunted by the flaws.
Look, see for yourself and take into account their criteria.
ESPN'S expert panel voted on thousands of head-to-head matchups, with voting based on both peak performance and career value.
ESPN's Top Ten NBA Players of All Time
10 Hakeem Olajuwon
9 Shaquille O'Neal
8 Tim Duncan
7 Bill Russell
6 Larry Bird
5 Wilt Chamberlain
4 Magic Johnson
3 LeBron James
2 Kareem Abdul Jabbar
1 Michael Jordan
While I agree with some of their rankings, others make me cringe.
So the only resolution is to submit a Top Ten List of my own using ESPN's formula, and a few other added ingredients. At least that way I may get some sleep.
I'm still hoping for someone to tell me it's a hoax, and I'm the victim of a practical joke.
Nonetheless here's my contribution to the debate. Feel free to email yours to naughty@tribunemedia.net
Naughty's Top Ten NBA Players of All Time
10 Oscar Robertson
9 Hakeem Olajuwon
8 Larry Bird
7 Shaquille O'Neal
6 Bill Russell
5 Tim Duncan
4 Magic Johnson
3 Kobe Bryant
2 Kareem Abdul Jabbar
1 Michael Jordan
Changing of the guard
I hope you were all watching Sunday's NBA All-Star Game; if you did then you would have seen several subtle indications that the next superstar face of the Laker franchise will be Russell Westbrook.
Kobe Bryant sung his praises in what I'm sure was a grand recruiting pitch during NBA All-Star week.
Add to the equation Westbrook's second straight All-Star Game MVP and his role in leading the West squad, breaking the All-Star Game scoring record in the process.
It's clear the mercurial, multi-talented Westbrook is eager to play on a bigger stage with a brighter spotlight than Oklahoma City can provide.
Russell Westbrook is an LA kid who starred in high school and later collegiately at UCLA.
He, like the rest of the NBA universe, knows the star void in LA must be filled - and it will be in short order.
Pedigree
In my opinion, considering his roots and pedigree, Westbrook and his 25-point, nine-assist and seven-rebound per game averages are the cure for what ails the once mighty Lakers.
The young core of future Laker stars already on the roster like DeAngelo Russell, Julius Randall, Jordan Clarkson and Larry Nance Jr need a young fiery leader to guide them to the next level, especially by example.
Despite his off-court fashions, Westbrook has matured each year in the league, still managing to wear his heart on his sleeve but keeping his emotions in check for the most part.
Taking all things in to consideration with all parts being equal, Russell Westbrook is tailor-made to be the next superstar in purple and gold.
• Naughty presents 'Mischief and Mayhem in da AM' from 6am to 10am, Monday to Friday and 'The Press Box' sports talk show on Sunday from 10am to 1pm, on KISS FM 96.1.
Comments and questions to naughty@tribunemedia.net.