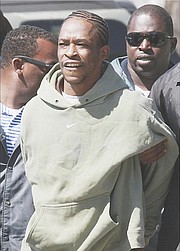 By RASHAD ROLLE
Tribune Staff Reporter
rrolle@tribunemedia.net
A POLICE search that lasted two weeks ended Wednesday night when a special team of officers arrested escaped convicted murderer Ormand Leon at a home in bushes on Fire Trail Road.
Leon, 26, had escaped from a police bus in the area of York Street. The bus was taking prisoners from the courts to the Department of Correctional Services in Fox Hill on February 2 when Leon escaped.
His escape prompted a massive manhunt.
Police Commissioner Ellison Greenslade said yesterday that a woman was found with Leon. The woman was arrested and is expected to face formal charges.
The owners of the property, where they were found, could also face charges once officers determine who they are, Mr Greenslade said.
He said he could still not provide details on how Leon escaped a police bus, adding that investigators are still in the process of taking and assessing a statement from Leon.

However, the commissioner said he would take decisive actions if it is determined that a police officer aided in the prisoner's escape.
"At 11.15 last night (Wednesday) a highly trained, heavily armed, focused strike force team from the Drug Enforcement Unit (DEU) developed a target profile in bushes just off Fire Trail Road, that would be in the area near the police force firing range, executed a search warrant with force and took into custody the escaped felon, convicted murderer Ormand Leon," he said.
"He was taken into custody without any resistance. We did a diligent search and no weapons or any other offensive elements were found. He was found along with a female."
Mr Greenslade said many people from the Fire Trail Road community saw the escaped prisoner and informed the police.
"I'm telling you at every turn that members of the community saw him, people that you may call good people, some of them you may call bad people, you take your choice, members of the public were calling us and telling us 'I just saw him, come and get him, take him back to where he belongs,'" he said.
He also thanked police officers for working tirelessly to capture the prisoner, adding that Leon was never harmed during the arrest.
However, he said, some officers have not demonstrated professionalism, posting voice messages in "chat groups" that have caused rumours to be spread about how the prisoner escaped.
He said these officers could face disciplinary action for such behaviour.
He also said it's too early to determine if improved security is necessary to ensure such an incident doesn't happen again. It had been reported earlier that Leon managed to get out of his handcuffs and shackles before escaping the police bus.
Hours after Leon's arrest, the heavily guarded convict was taken to court on Thursday where Supreme Court Justice Bernard Turner sentenced him for the July 2011 murder of Fransisco Hanna.
He will was given a prison term of more than 41 years.