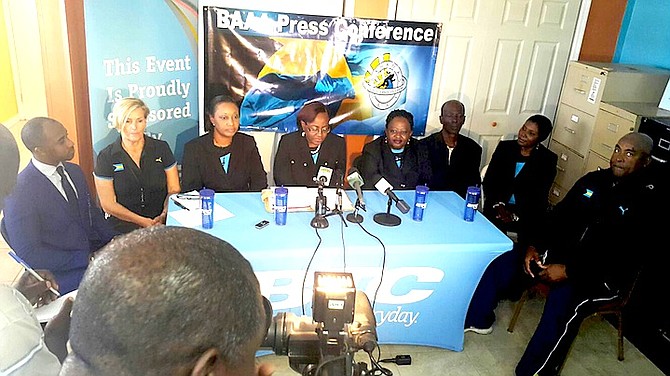 By BRENT STUBBS
Senior Sports Reporter
bstubbs@tribunemedia.net
WITH their local track and field season now in full gear, Bahamas Association of Athletic Associations (BAAA) president Rosamunde Carey said they are now gearing up for a hectic international campaign that will begin with the IAAF World Indoor Championships and the CARIFTA Games next month.
Carey, along with the majority of her executives, unveiled their plans for the 2016 season during a press conference yesterday in the BAAA office at the Thomas A Robinson Track and Field Stadium. And, at the same time, she announced the managers and head coaches for both travelling teams. "The goals for this administration is ambitious, but we are more than capable to bring them into fruition," Carey said. "One of these goals is a Family Streak Out and Fun day that will be launched simultaneously with the BTC/BAAA CARIFTA Trials on Saturday, March 12.
"The objective of this is to create a festive environment at the trials that will include family times, activities and food for everyone. So we are inviting all of you to please come out and join us."
Additionally, Carey said they have also petitioned the government for the proclamation of a National T-Shirt Day for CARIFTA and they are just waiting on confirmation to disclose more details. On that day, Carey said they are encouraging the general public to purchase and wear their CARIFTA t-shirts.
"We have great expectations for our CARIFTA team, which is the biggest track and field competition in the region," Carey said. "We expect to make a resounding impact again, not only in our medal haul, but we will be carrying our junkanoo group to leave our Bahamian flair in Grenada atmosphere. "However, in between our CARIFTA Trials and our CARIFTA Games, we will be sending off our first senior national team to the World Indoor Championships that will be held during March 17-21 in Portland, Oregon. "Our expectations are high for our team performance at World Indoors. "I believe the executives made the right choice when we made our managerial appointments of Mrs Julie Wilson as manager of World Indoors and coach Peter Pratt as head coach as well as Mrs Milfred Adderley as manager of CARIFTA and coach Wendall Collie as the head coach."
At the press conference, the BAAA received a cheque presentation of $10,000 to assist with both the CARIFTA Trials and CARIFTA Games.
La'Shawn Cartwright, team leader, events and sponsorship and talent endorsements at BTC, made the presentation. "I like what I've seen here today and when we met," Cartwright said. "I'm very proud of the new selection of your management team. So on behalf of our CEO, Mr Leon Williams, we pledge our support in the amount of $10,000 towards the CARIFTA Trials and the CARIFTA Games and we look forward to some great awards coming out of the games."
Accepting the cheque along with her treasurer Sharon Gardiner and assistant treasurer Mildred Adderley, Carey thanked BTC, Williams and Janet Brown for their continued support of the BAAA.
"BTC has always been a long standing supporter of the federation and we hope that this relationship can continue throughout our tenure," Carey stated.
As for the National High School Track and Field Championships, Carey declared that the event will be held in conjunction with the Ministry of Youth, Sports and Culture and will be held in Grand Bahama April 13-15. She noted that while only athletes from the various teams who have made the qualifying standards will get to travel, an official joint statement will be made by the BAAA and the Ministry of Youth, Sports and Culture very shortly.
And as they gear up for the biggest international meet this year in Rio de Janeiro, Brazil, in August, Carey said while they have dubbed the Olympic Games the 'Big O', they are planning a gala awards banquet for Sunday, June 26, the day after the completion of the Senior National Championships and Olympic trials.
"This will be our premier signature event for 2016," said Carey of the ball, which they hope to rival any ball currently being staged in the country. "So we are asking you to please stay tuned for more information as the event unfolds."