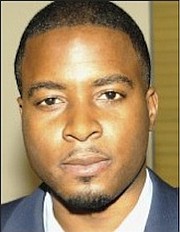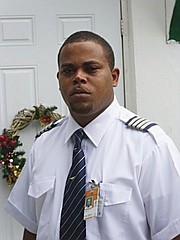 By ADRIAN GIBSON
ajbahama@hotmail.com
The tale of the death of Christopher Prescott Adderley, affectionately known as Scottie, in a prison in Port-de-Paix, Haiti, is a harrowing tale of negligence, a callous disregard for the pleas of a distraught mother by the Bahamas Ministry of Foreign Affairs (MOFA) and has, in the aftermath, left a family grieving and in pursuit of answers.
Adderley, a 34-year-old father of two, was a pilot who had flown with Southern Air, Pineapple Air and Region Air. His mother, Sharon Rosemary Adderley, told me that on February 15, 2014, Scottie left the Stella Maris airport in Long Island for Haiti. He left onboard a Piper Navajo (N6739L) purportedly to pick up a friend and fellow pilot, Hughie Gray. His family and friends contend that he had borrowed the plane from a friend and that the plane had not been stolen. That was the last time he was seen alive.
Based on my interviews with Gray, his mother and close friends, Scottie crash landed in bushes slightly off the runway at an airport in Cape Haitien. The plane skidded off the runway and crashed into a house. Before leaving Long Island, he purportedly flew the plane to the airport in Deadman's Cay for repairs as the brakes were not functioning properly. The brakes, I am told, malfunctioned during their landing in Haiti. Both men survived the crash but were immediately arrested, interrogated and later charged with the trafficking of illicit drugs.
According to Mrs Adderley, that began a nightmare which culminated in the death of her son.
She said that there were occasions when, on making inquiries about his wellbeing or requesting the intervention of the MOFA, she was made to feel about as welcome as a fungus.
On March 9, 2014, Mrs Adderley, affectionately known as Rosemary, wrote a letter to Minister of Foreign Affairs and Immigration Fred Mitchell. In her emailed letter captioned 'Detention of Christopher Prescott Adderley in Haiti', she wrote:
"My son is a Pilot by profession. I last saw my son on Saturday 15th, February 2014. It is my understanding that he piloted an aircraft into Haiti on Saturday 15th, February 2014. He was scheduled to return on the same date with passengers. I was informed by a friend of his, that he is detained in Haiti. I was also advised that the plane developed mechanical difficulties, resulting in it crash landing.
"I have received communications from my son through Mr Anderson (Deputy Bahamian consulate in Haiti) for which I am grateful. Unfortunately, I have not spoken directly to my son and I am unable to ascertain why he is being detained. Today completes twenty days of his detention and according to the sources available to me he has not been formally charged with any offences.
"In addition to his detention, I am also extremely concern about his physical and mental conditions as a result of the alleged plane crash. It is also my understanding that the aircraft is a private aircraft owned by a Bahamian ... It is obvious that the information provided is coming from several unsubstantiated sources, which elevates my frustration and concern ... As a result of the circumstance, I seek your urgent attention and formal assistance in bringing closure to this matter."
Mr Mitchell, rather than reassuring her and pledging to address the matter urgently, nonchalantly responded the next day, telling her that he would pass the information on to the Permanent Secretary (PS) at Foreign Affairs and then urged her to "follow up with him at 3284500".
The PS never called Rosemary and, though she attempted to reach him "on numerous occasions" from her homestead in Long Island, she was unsuccessful.
Rosemary emailed another letter to Mr Mitchell on March 27, 2014. In that letter, she pleaded for his urgent attention to her son's incarceration. She wrote:
"Since my e-mail to you sir I have found out that Christopher and another pilot (Hugh Gray ) are being held in Port au Paix detention centre. I have also learnt that both pilots were forced into making and signing statements under pressure from the authorities there. Sir, I am asking your assistance in finding out the charges/offences of these two pilots. At present, I am aware that both my son and Hugh are adults but as a mother I (am) very much concern(ed) about what is happening with them in Haiti. As a result of the circumstance, I seek your urgent attention and formal assistance in this matter," she pleaded.
This time, Mr Mitchell's response was more comprehensive. He told Mrs Adderley: "This matter has received and is receiving attention. You are aware of this thru your representative and numerous calls and notes sent to you by various parties. You should also have been advised that our advice is that under the Haitian system a prosecutor can hold you indefinitely until they charge or release you so long as an investigation is on going. Your son has received consular visits and the information I have received is that he is as well as can be in his circumstances. I receive updates from time to time. If you have other information you can let me know. You can contact the embassy in Haiti directly. You should contact a lawyer. I am now advised that he has been charged before a court that certain admissions were made and that a further hearing is to take place. Again you may contact the embassy directly. That is the complete picture at the moment."
In another email, he said: "I am advised that he appeared before an investigating magistrate and that our consul was present. Your son alleges that he made certain statements in exchange for release. We are investigating that matter."
By January 2, 2015, Mrs Adderley - who felt that the Ministry of Foreign Affairs was being too hands off and seemingly uninformed or unconcerned about the state of the two Bahamians locked up abroad - again wrote to Mr Mitchell. In that emailed letter she wrote:
"Mr Mitchell, emailing you is my last resource to find out how my son is doing in Haiti. I tried calling the number that you told me to call (3284500), I am unable to get through to it. As a result of me residing in Long Island I am unable to visit the office.
"I am begging you sir to please if it is possible, let me know how he is doing. I have not been in contact at all with him for three weeks. I have received unofficial information that he is very sick. I am very grateful of all that you and your ministry have done for him and his friend Hugh Gray thus far. Thank You Sir for your cooperation in this urgent matter."
Mr Mitchell, to the obvious grief of this mother, only replied: "ambassador rolle are you able to address this. fm"
Mrs Adderley never heard from Mr Mitchell again ... until after Scottie's death eight months later.
Scottie died on September 22, 2015. His mother was informed of his death, by Mr Anderson, the next day. His body was subsequently flown to the Bahamas.
One week later, his co-accused Hughie Gray - along with two Haitian police officers - were all exonerated.
Mr Gray, who is back in the Bahamas, told me about their experience. According to him, they were transferred from one prison to another during their detention in Haiti. They were first housed at a prison in Port-de-Paix, then on to Port-au-Prince, then to Port-de-Paix, then Gonaives, then to Saint-Marc and back to Port-de-Paix. He said that they were questioned by Haitian officials and the Drug Enforcement Agency of the US Federal government. They spent 10 months in a prison in Port-de-Paix before they were formally brought before a court. He said he remained in contact with deputy consul Mr Anderson in an effort to encourage the Bahamas government to intervene to discover what took so long for them to be taken to court. He stated that after they were taken to court, they were moved between prisons in Gonaives and Saint Marc. Saint Marc was described as "hell on earth" and he told me that, whilst in Gonaives, the water was contaminated and the sewer freely flowed past their cells. He said they could not bathe.
Mr Gray said that before Scottie's death, a date for a final hearing had been set down for a verdict to be rendered by the court. Given that, they were transferred back to Port-de-Paix and 10 days after their arrival, Scottie died.
"Scottie's foot started to swell up in Gonaives," Mr Gray said. "The doctor told him that he had blood clots. They wrote him a prescription to buy pills. But, the foot didn't go down. We heard that Mrs Adderley had contacted the Consul to check on Scottie and his foot. Our lawyer came to check on him. I had a cell phone. I spoke with the deputy Consul. I was asked by him to check on Scottie," he said.
"When we got to Port-de-Paix, Scottie's foot continued to bother him. He ended up taking pain killers. But he was still in pain and he kept complaining. He asked one of the prison officers to see a prison doctor but the doctor only told him that his foot was infected and gave him a cream for his foot. He couldn't sleep and if he did it would be for five minutes. He stopped eating at one point or would sometimes only take two spoonfuls of food. So he wasn't sleeping or eating.
"I soon noticed a green dot on his foot. This was all in the space of 10 days. He had dried-up blood around a cut on his foot. He didn't know how the cut got there. Things started to get real bad and he started to have a fever. We (his cell mates) would bathe him every morning and every afternoon to keep him cool. I hired a young fella who was in the cell with us and he would help to bathe him or get whatever he needed so that he didn't walk on that foot."
Mr Gray said that Scottie soon requested to see a doctor again. "He saw the doctor, who cleaned up the cut. He told me that he was given a needle. He said that the doctor stuck it directly into the cut and he told me that the doctor asked him if he felt a burning sensation and how far the burning was felt. Chris said he told the doctor that he could feel it up to his knee and he said the doctor told him that the clot or whatever went far," he said.
"A day or so later, the green dot now covered his entire foot. I called the prison officers to see his foot. They were scared and all said that it didn't look good. We bathed him and he got dressed to go to the hospital. He was taken out of the cell around 7am. From 7am to 1pm he didn't go anywhere. When I saw him again that day, he was not himself and he was lying on the floor, burning up with the fever. We took him to the shower and bathed him in cold water. He was shaking and his eyes were rolling. I asked to use the phone but no one would give me the phone. I was trying to reach our embassy but I was told to wait. The prison staff was clearly afraid.
"I went back to be with Chris. The prison officials never took him to the hospital. He was taken back to the cell by two men. I then made up my mind that I would put something in his belly that night and so I paid one of the prison cooks $30 to cook some soup. I started spoonfeeding him water. When the soup came, I allowed it to cool down and I gave it to him. But, after the first spoonful, he took no more. He was just lying there in my arms and breathing hard. I let him relax but I could feel that he still had a high fever.
"Shortly after, I heard when Chris took a deep and long breath. That was it! As he lay there, all I could think about was his children, his little girl," he said.
"The prison went into an uproar. Everyone was running around. They said that they needed the Commissaire, a judge and representatives from the UN to come by and see his body before they could do anything. They then took him away. I asked to use the phone. I was denied for two days and no one wanted to allow me to use the phone. He died on September 22nd and I was finally able to speak to the Consul for the Bahamas on the 24th," he recalled sadly.
Mr Gray said that they had court on October 7 and again on October 16. He said that at that time, a judge ruled that he was to be immediately released. He was taken by Mr Anderson to his official residence in Port-au-Prince, remaining there for three days before being flown to Cape Haitien and then to Nassau. He said that the Judge held that they were "wrongly charged and detained".
Rosemary Adderley met with Haitian officials at the Haitian Embassy in Nassau on December 11. They promised her an investigation into her son's death but she has yet to hear from them.
Hurting and frantically in search of answers, she reached out to Mr Mitchell in a letter written on December 21. The letter was taken to the MOFA. In that letter, she told him:
"It is with great sadness that I write you this letter concerning the untimely death of my son and the circumstances surrounding his death for which our family has yet to find answers or resolution. I write you as a mother in the troughs of grief, as a Bahamian citizen wanting to know what happened to a fellow Bahamian - my dearest son - whilst incarcerated in a Haitian prison.
"Mr. Mitchell, I write to request the Bahamas Government's - i.e. the Ministry of Foreign Affairs and all interested parties - intervention and investigation into this matter that, by all accounts and the account Hugh Gray, involves questionable, even unscrupulous and seemingly unlawful circumstances, concerning my son's death at the prison in Port-au-Paix. I have recently visited the Haitian Embassy and met with one Mr Claudy Blaise. Mr Blaise has pledged to assist but he has also advised me to pursue this matter via your ministry and that, it appears, would also create and foster an official undertaking between our government and the Haitian government in launching an investigation into Christopher's death.
"Bahamas Consul Mr Anderson, on the 23rd of September, 2015 pledged to me - as he gave me his condolences - that the Bahamas government will conduct a full and comprehensive investigation into my son's death and all of the circumstances leading up to his death. This far, we have not gotten any further response or update related to the same.
"During Christopher's incarceration and trial in Haiti, our family spent many thousands of dollars on his defence and upon requests by Haitian government officials for monies for various reasons. Much of that money was sent via the Ministry of Foreign Affairs and transferred to the parties involved by Bahamas Consul Mr. Anderson himself," she wrote.
She received no reply. Given that, she wrote Mr Mitchell an email on January 30, 2016, telling him that she was desperately in need of answers and that her family had been "tattered and torn" by her son's tragic death.
Mr Mitchell responded, saying: "My understanding is that you are in touch with the Bahamas emeasly (embassy) in Haiti and they are following up on the matter. I thought you were aware of this. I will copy them on this matter. I regret the confusion and delay."
Not only was Mrs Adderley not aware of this, but - to this date - besides a January 15th, 2016, letter finally expressing their condolences and promising that MOFA will "look into this matter", she has yet to receive answers.
Mrs Adderley told me that she - along with Hugh Gray Sr - sent more than $20,000 to Haiti to pay for legal fees and bribes requested of them. These funds were all sent via the MOFA.
I have been asked to withhold some of the information concerning this matter. However, one can hardly conclude that the MOFA has truly fulfilled its mandate in representing the interests of Bahamians locked up abroad.
I have read communications between Mrs Adderley and MOFA officials pleading and begging them to take a private doctor to her son and/or ensure that he attends hospital as she had received several phone calls, from friendly prison guards, that her son was not doing well. On one occasion, one of the officials on the ground in Haiti responded that because it was a long drive, he would not be going. Disgraceful!
The Bahamas' MOFA could learn a lot from the US State Department, particularly relating to the treatment and assistance of its citizens who are incarcerated in foreign jurisdictions. Where was the effort to ensure that these Bahamians were afforded due process under Haitian laws? Why were their conditions not more closely monitored? Why were they not in contact with prison officials to ensure that these men were treated according to internationally accepted standards of human rights?
ajbahama@hotmail.com