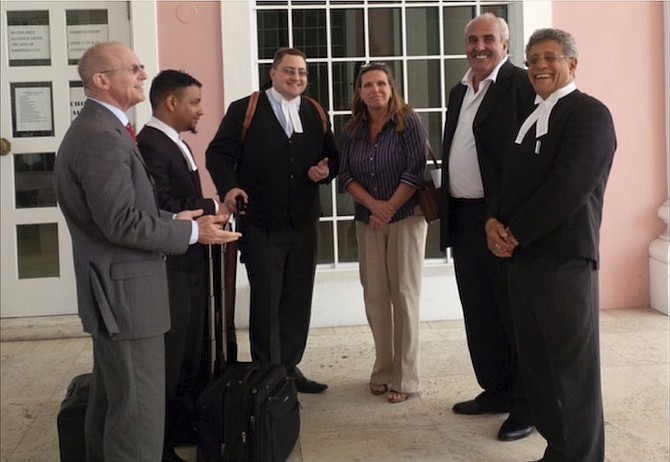 By DENISE MAYCOCK
Tribune Freeport Reporter
dmaycock@tribunemedia.net
CANADIAN Bruno Rufa will be able to remain in the Bahamas until April 4 when the Supreme Court is expected to deliver its ruling in the judicial review into a decision made by the Department of Immigration to revoke his 150-day stay in the country.
Justice Petra Hanna-Weekes yesterday granted an injunction restraining the Director of Immigration, William Pratt, and the Department of Immigration from deporting, expelling or escorting Mr Rufa out of the country until the court's ruling. The Office of the Attorney General intends to appeal the decision.
Mr Rufa, a condo owner at Coral Beach Condominiums in Freeport, brought judicial review proceedings against the Director of Immigration over his decision to cancel his visitor's visa and remain in the Bahamas for 150 days on his return to Grand Bahama on November 23, 2015.

On December 24, 2015, he was ordered to wind up his affairs and leave the country within seven days.
At the conclusion of the hearing, Fred Smith, QC, of Callenders and Co, informed the court that Mr Rufa's extension to remain in the country would expire on February 29, and made an application for an injunction since the Attorney General's Office had not received instructions for an extension permitting him to remain in the Bahamas until the court's ruling. The government opposed the application.
Mr Smith argued that Mr Rufa was neither a national security risk nor a terrorist. "He owns property here and has been coming here for 15 years," he said.
Mr Smith relied on Article 25 of the Constitution which provides all persons, foreign or Bahamian, with immunity from expulsion, and with the right to enter and reside in the Bahamas subject to immigration laws and due process.
Justice Hanna-Weekes said she would give her ruling on April 4.
Lawyers for the Attorney General's Office applied for permission to appeal and permission was granted by the court. Loren Klein, of the Office of the Attorney General, and Darcel Smith-Wiliamson are appearing on behalf of Director of Immigration William Pratt.
This is the second judicial review application which Mr Rufa has had to bring against the government. In October 2015 the Supreme Court delivered a judgment declaring that Rufa's expulsion from the Bahamas in February that year was unlawful. Mr Rufa and his partner, Sandra Georgiou, have also filed and obtained leave to bring a third judicial review over the government's refusal to issue a home owner's residency card to which they are entitled under the international persons landholding because they own condominiums in Freeport and have been wintering here for the last 15 years.
The Judge granted the junction, the terms of which are: "The Respondent [Director of Immigration] directly or through his agents, appointees or employees (including the Department of Immigration and Immigration Officers therein) be and are hereby restrained and or enjoined from deporting, expelling, escorting, seeing out, or causing the Applicant, Mr Bruno Rufa, to be removed from The Bahamas until delivery of the Honourable Court's judgment herein on 4th April, 2016 or until further order of the Honourable Court."