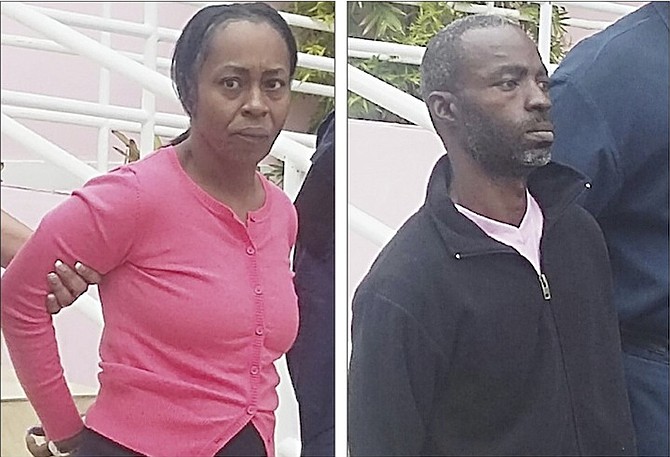 By LAMECH JOHNSON
Tribune Staff Reporter
ljohnson@tribunemedia.net
A MAN and a woman were arraigned in Magistrate's Court yesterday in connection with two separate murders that occurred as last year ended.
Lynette Charlton, 43, was remanded to prison after being charged in connection with the recent murder of a man who was shot on Adelaide Road.
Charlton, an American, stood before Chief Magistrate Joyann Ferguson-Pratt accused of intentionally causing the death of Wayne Seymour on December 28, 2015.
The Red Sea Road resident was charged with the offence under section 291 (1)(b) of the Penal Code, Chapter 84, which does consider the discretionary death penalty in sentencing if a conviction is reached at the end of trial in the Supreme Court.
According to initial police reports, Johnson and a woman got into an argument in a Chevy truck while on Adelaide Road shortly after 8pm.
Seymour was reportedly shot with a handgun by a woman who fled the scene in his truck, leaving him in the road.
Seymour was rushed to hospital and died of his injuries shortly after 6 o'clock the following morning.
Charlton was not allowed to enter a plea to the charge, but will do so when her matter is fast-tracked to the Supreme Court at her next Magistrate's Court appearance on February 24.
As bail cannot be considered for a person charged with murder in Magistrate's Court, Charlton was remanded to the Department of Correctional Services and informed that she would have to apply for bail to the Supreme Court.
Before her remand, her lawyer Ryszard Humes complained that while in police custody his client had been struck over her head by a police officer.
"She recently had an aneurysm," Humes said, adding that surgery had been performed not long ago.
"Where was she?" the chief magistrate asked.
"At the Central Detective Unit," the accused's lawyer said.
"Did she give any particulars of who hit her?" the judge asked.
Mr Humes said no, but added that Charlton said she was sure it was a male officer.
"I've noted it on the docket and a note will be accompanying her remand to prison," the judge said.
In a separate arraignment before the chief magistrate, 39-year-old Davardo Newton of Yellow Elder was also charged with murder under section 291 (1)(b) of the Penal Code concerning the December 29, 2015 killing of Deangelo Major.
The unrepresented accused is alleged to have stabbed his brother-in-law following an argument over a food item that escalated after Major had left the home shortly before 7am to walk his wife to work.
Newton also returns to Magistrate's Court on February 24 for the case to be fast-tracked to the Supreme Court.
He too was remanded to prison without bail.