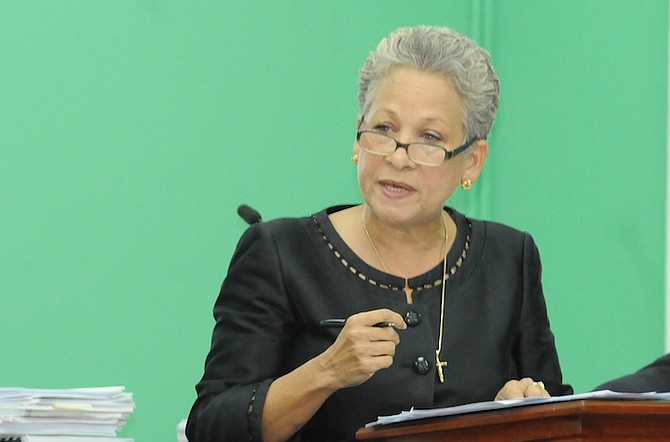 By SANCHESKA BROWN
Tribune Staff Reporter
sbrown@tribunemedia.net
TRANSPORT and Aviation Minister Glenys Hanna Martin said officials are discussing using police and Royal Bahamas Defence Force officers to assist her ministry in patrolling beaches and enforcing the rules of the water sports industry.
Mrs Hanna Martin was responding to Ed Fields, public relations chief for the Atlantis Resort on Paradise Island, who on Sunday called for action over the industry. He urged "relevant agencies to show the Bahamian public and those who visit our shores, that we are willing to take bold, decisive and immediate action to rid ourselves of those who do not have the interests (and) safety of law-abiding citizens and our visitors at heart".
His comments came after police arrested a 26-year-old man in connection with the alleged rape of an American tourist.
According to police reports, the victim was on Cabbage Beach, Paradise Island around 5pm on Saturday, January 2, when she was allegedly attacked and raped by a Jet Ski operator.
Mrs Hanna Martin said the alleged incident was "disgusting and unfortunate" but also said it was her information that the suspect was not a water sports operator but "just a man with a Jet Ski and a boat hanging on the beach."
She added: "The individual who was arrested was not a participant in the Jet Ski industry and I discussed that with Mr Fields before he sent out his statement. My advice is that the individual was just at a particular spot on the beach outside of the realm of where the Jet Ski operators are. The industry is regulated, but we do have a lot of challenges like this one.
"I have been speaking with the minister of national security and we are discussing using the police and the defence force to assist with patrolling the beach. These sorts of incidents have been a concern of mine for a while and we do have challenges but we are working to address them. For example, since January 1, 2015 no Jet Ski operator is allowed to accompany someone on the Jet Ski, but people still don't know this. So we will use the defence force and the police force to help us with enforcement and regulation and prevent incidents, where people are being hurt and attacked, from happening."
In December 2015, police arrested a Jet Ski operator in connection with an alleged sexual assault of a female visitor.
That incident also happened at Cabbage Beach.
Police said the woman reported to officers that around 3pm on the day in question, she was sexually assaulted by a man on a Jet Ski in waters off the popular beach.
In 2014, the United States government issued a warning about crime in the Bahamas, expressing concern over a spike in reported sexual assaults, some which were said to be linked to the "loosely regulated" water sports industry on Paradise Island.
At the time, the US Embassy in Nassau noted that police have warned women to be vigilant after a spike in the number of reported sexual assaults.