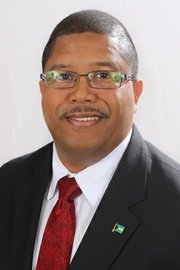 By RASHAD ROLLE
Tribune Staff  Reporter
rrolle@tribunemedia.net
THE National Intelligence Agency continues to operate without oversight and may be abused by officials, Free National Movement Deputy Leader Peter Turnquest said yesterday.
His statement came days after State Minister for National Security Keith Bell told The Tribune that the legislation for the National Intelligence Agency (NIA) is complete but must now make its way to Cabinet before it is brought to Parliament.
However, the Christie administration's credibility on this issue is being called into question since National Security Minister Dr Bernard Nottage made a similar statement to reporters more than a year before Mr Bell's comment.
"The fact is the government has indicated that the legislation has been ready for quite a while now," Mr Turnquest said. "They promised it would be legislated sometime in 2014 but we still have nothing before us yet the institution continues to operate with no oversight. Even the mandate of the NIA has changed. When it was originally disclosed that it was created, it was to act as a co-ordinating entity between customs, immigration, defence force (officers) and police. But in more recent pronouncements, Mr Nottage confirmed that it is indeed an intelligence agency.
"It's an illegal agency. And having promised the legislation and oversight and having failed to produce it, questions deserve to be raised. What is the agency? How (does it) work in connection with other agencies and what are they doing and what is their oversight? The last thing we need is a secret police organisation that is spying on the internal activities of its citizens without some bipartisan or independent committee providing oversight."
Mr Turnquest stopped short of saying the NIA is in fact spying on Bahamians, but added: "We could only speculate at this point."
Shortly after the Progressive Liberal Party formed the agency, the government appointed former Royal Bahamas Defence Force (RBDF) Commodore Clifford "Butch" Scavella to head the NIA.
In the past, Dr Nottage has said that only criminals are being monitored by the agency, and he has denied that the government is prying into the personal communications of Bahamians.
"We will maintain our emphasis on intelligence collection, analysis and dissemination to threats to national security, including illegal drugs, firearms trafficking, poaching, illegal migration, corruption, criminal gangs and crime in general and seek to prevent the emergence of new threats," he had said earlier.
However, after promising nearly two years ago to bring legislation by the end of 2014 concerning the agency, he has failed to deliver on his commitment.