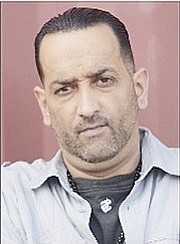 By Inigo 'Naughty' Zenicazelaya
TODAY is exactly one year that I started my new 'big' gig at Radio House and The Tribune.
It's been everything - and more - than I could have imagined. A year ago, I truly felt then like I was playing for the 'Yankees': a year later I still do!!
Since it's my one-year anniversary, I looked back to see what famous happening occurred on this day in sporting history, January 19. And I found three 'classics'.
Here we go!
Minor League Hockey Player
Traded for a Bus (1983)
Yes it's true, as reported by the Associated Press. "The Seattle Breakers of the Western Hockey League have swapped the rights to left wing Tom Martin to Vancouver British Columbia - for a used bus."
The trade earned Martin the nickname 'Bussey' throughout his career.
AL and NL Consolidate (2000)
Okay, maybe they didn't merge exactly, but in 1903 in the National Agreement, both the American League and National League agreed to act interchangeably with one another. This allowed players and managers to change leagues without consequence or persecution. It also gave birth to the "World Series".
The AL and NL both operated under the umbrella of Major League Baseball. While other sports leagues give out one award winner, such as one MVP, baseball hands out two: one for the NL and one for the AL. All of this would change on this day in 2000, when club owners voted to abolish the separate-but-equal system, allowing then Commissioner Bud Selig, to govern both leagues at once. The only difference remaining was the designated hitter (DH) rule, which has been exclusive to the AL since 1973.
Notre Dame ends UCLA's
epic streak (1974)
Notre Dame has two illustrious feathers in its impressive hat. It's the institution that has ended both of the longest winning streaks in college football and basketball history respectively.
UCLA came into Notre Dame boasting a three-year 88-game winning streak. Bill Walton and the Bruins had accomplished back-to-back perfect seasons and the Bruins as a University had won seven straight National Championships.
Up by 17 points with three and a half minutes left, UCLA led 70-59 (the shot clock didn't exist back then). All the Bruins had to do was hold on to the ball.
The 'Irish' had other plans, putting on a defensive clinic the rest of the way, holding the 'Bruins' scoreless the rest of the way and cutting the lead to one, 70-69.
With 30 seconds left Notre Dame's Dwight Clay sank a corner jumper to put the 'Irish' up, and after a Bill Walton miss after receiving the inbound pass made it a game winner!
Irish 71 - Bruins 70
Until next week here's to another year, playing for the 'Yankees'.
May you all find your 'field of dreams' and star on it from time to time when the opportunity arises.
• Naughty presents 'Mischief and Mayhem in da AM' from 6am to 10am, Monday to Friday and 'The Press Box' sports talk show on Sunday from 10am to 1pm, on KISS FM 96.1. Comments and questions to naughty@tribunemedia.net