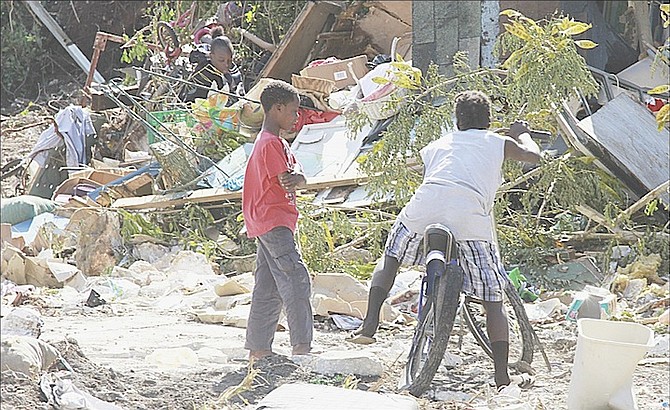 By NICO SCAVELLA
Tribune Staff Reporter
nscavella@tribunemedia.net
A LOCAL attorney claims that his family's rightful ownership of embattled land in the Prince Charles Drive area was justification for the property's demolition, which left dozens of beneficiaries of a local outreach organisation displaced.
William Fountain, of Cash Fountain law firm and son of former Chief Justice Sir Cyril Fountain, said Thursday's demolition of the property on Pine Barren Road, which was home to some 46 beneficiaries of the Ambassador Corral International Association (ACIA), was justified according to a court order dating back to May 9, 2014, which stipulated that ACIA was to vacate the property from August 10, 2014.
However, ACIA Managing Director Michael Bullard told The Tribune yesterday that while his organisation was aware of the August 2014 deadline, it was by way of a legal letter from the Fountain's law firm, and not an actual court document.
Mr Bullard also claimed that the court document that the legal letter referenced was only given to him recently by the property's alleged previous owner, Warren Aranha.
Furthermore, Mr Bullard claimed that Mr Aranha allegedly instructed the organisation to stay put since they had already made payments to him to acquire the land.
"We're caught in the middle of this whole thing," Mr Bullard told The Tribune. "The dispute should have been settled between (the Fountains and Mr Aranha), and then they come to us. But they kept badgering us. And for the past eight years all we've been getting is tractors and threats."
Last Thursday, Mr Bullard stood by helplessly as bulldozers ripped through homes and other buildings erected on the property while various persons scrambled amidst the chaos in an attempt to salvage what little they could of their belongings, which included clothes, instruments and pets.
According to Mr Bullard, a number of farm animals, cats, birds, and rabbits were killed in the demolition. At least three dogs were injured but are now receiving medical attention, he said.
Mr Bullard also claimed that living quarters, four offices, three security booths, as well as facilities that housed the organisation's Royal Diplomat Academy were also destroyed in the process.

On Friday, Mr Fountain told The Tribune that while the demolition appeared to be callous, the ACIA had ample time to adhere to the ruling.
"Contact was made through Sir Cyril and through other members of our family, to say to him – and he was given things verbally and in writing as well – to vacate and he (Mr Bullard) did nothing," Mr Fountain told The Tribune. "So whilst I am very cognisant of the humanitarian aspect of this, there's also a part of it that says at what point does the rule of law stand, and at what point am I able to enforce my rights as a land owner? I don't think that Mr Bullard was put upon."
Mr Bullard responded yesterday by saying: "He brought a letter and said we have to leave the property, and I said he'd have to take it up with Mr Aranha, not me. He kept saying I was trespassing; I said well then I need a court order. They never brought a court order; they just brought this letter from (Sir Cyril) stating that they're the original owners of the property and we must please leave or they're going to destroy everything. Well if they did then they should have had the police remove us, not destroy us."
Nonetheless, when asked what the ACIA was doing to rebound from the demolition, Mr Bullard said: "We're just trying to put together what we had, and what we had, we had very little (of)."
He added: "All I know is I only purchased (the property) because they said it was clear in title. I wouldn't have purchased it (otherwise)."
When contacted yesterday, Mr Aranha did not offer comment but said he would be open to speaking on the issue later this week.
The Grand Bahama Human Rights Association (GBHRA), in a press statement yesterday, called upon the relevant authorities to "urgently investigate" the circumstances surrounding Thursday's demolition.
The GBHRA said it was "deeply concerned" that dozens of individuals, including young children, were "forced to watch the destruction of their community at the hands of someone claiming ownership over the land on which they resided."
"Having your home ripped from under you, your pets killed, your personal property destroyed, is an unspeakably traumatic experience for anyone," said GBHRA Secretary Paco Nunez. "Most of all, we worry about the emotional and psychological scars that will be borne by the children, probably for the rest of their lives."
"Sadly, this is the society we live in, where those with power fail to act in the face of human suffering – particularly when the victims happen to be underprivileged.
"Despite the lip service paid to 'believing in Bahamians', our politicians do little to defend the most vulnerable in our midst. Often enough, it is agencies of the government that commit the worst abuses against the poor and disenfranchised," the statement added.