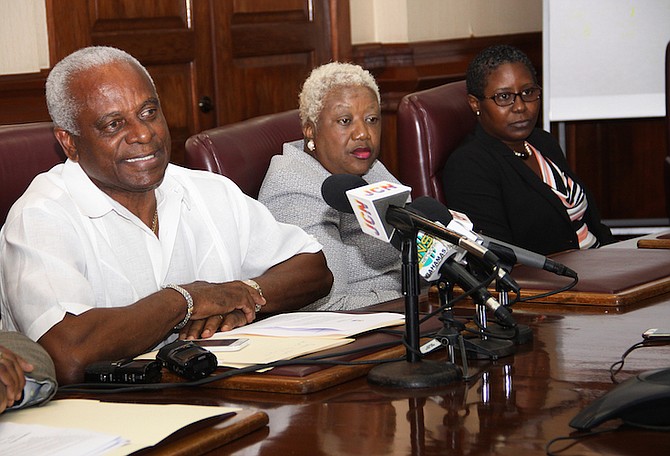 By RICARDO WELLS
Tribune Staff Reporter
rwells@tribunemedia.net
THE National Insurance Board has extended its operational hours to offset persisting issues with its claims process caused by deficiencies in its newly implemented V3 system, which showed performance issues in tests two months ago.
The revelation was made by NIB's lead operations consultant, Jayson Moxey, yesterday during a press conference at NIB headquarters.
According to Mr Moxey, NIB is "feverishly" working to overcome faults related to the way its new V3 operations system is analysing and calculating contribution payouts for thousands of Bahamians.
Mr Moxey told The Tribune that NIB was initially satisfied that the new system had the capacity to support the content being compiled, however, upon further inspection, various inaccuracies were discovered with the data being output by the system as a result of how it was interpreting information being uploaded by the staff at NIB.
"Prior to the conversion to the V3 we had user testing that took place to ensure its efficiency," he said. "Using testing means that each process that is involved, as it relates to registration, contribution posting, cashiering, claims processing, we had members of staff who were familiar with the process to test the system to ensure its efficiency - that it was in fact doing what was expected of the system."
Moreover, Mr Moxey stated that officials at NIB opted to use a "parallel run" in its registration department to test the new system. Meaning that instead of fully transitioning from its old AS-400 system to its new V3 system, officials opted to run both systems simultaneously to ensure that the new V3 system was indeed working up to par.
However, he revealed that this practice wasn't carried out in the short-term and long-term benefits departments, with officials in those areas opting to run pilot testing process for two to three months.
Within that period, officials in those departments carried out operations with the new system, attempting to address issues as they came up.
"Based on our users they (said) it was fine," Mr Moxey said.
" . . . But at the end of the day we found out that there were some deficiencies. One of the major challenges has to do with the transfer of data from the AS-400 to V3, and if you don't have clean data in so doing – because you know the processing of claims are depending on contribution records and so if all the records were not transferred or there were deficiencies in the transfer then that would in fact create a bottleneck in the process."
There have been some signs that data being output by the new V3 system has resulted in payment shortages and in some cases, over-payment in some instances.
Mr Moxey said both departments have implemented a manual check system to ensure that all payout are correct.
That "bottleneck" has in fact been realised in the last few weeks with thousands of Bahamians being subjected to non-payments due to the flaws that now exist in both the short-term and long-term benefit departments.
Mr Moxey told The Tribune that NIB has now been advised by service technicians that it was now "too far into" its new system to revert and run it along side its old AS-400 system.
As a result of this, NIB has opted to start extended hours at its Baillou Hill Road headquarters to offset the delays being experienced in its payment processes.
Employees in the IT, claims, short-term benefits, long-term benefits and payment departments have all been placed on an extended work schedule.
All employees scheduled to work added hours will be compensated.
Over the weekend, Free National Movement Leader Dr Hubert Minnis condemned the government for the month-long delays in NIB's payments, claiming that the government's failure to implement a back-up system at NIB has resulted in Bahamians "being cheated out of hundreds of thousands of dollars."
Officials at NIB have suggested that 400 short-term claimants and 1,300 long-term claimants have been adversely affected.
NIB has also confirmed that 15,000 claimants have been processed and paid between April 1 and June 30, totalling $8.5m in payouts.
Meanwhile, Mr Moxey said he is confident that a resolution to the entire ordeal was near.
"As it relates to short-term benefits we have made tremendous progress over the last two weeks and so we are very optimistic that as it relates to short-term benefits the issues would be resolved by no later than the end of this month.
"As it relates to long-term benefits, we want to ensure that our short-term is functioning efficiently. Simultaneously we are working on long-term benefits but we are optimistic that those issues will too be dealt with."
NIB has been engaged in the process of transitioning to a new IT platform for the past several years.
Phase one of the transitional process involved the roll out of the new NIB smart card, which was launched in May 2014. The completion of phase two was scheduled for the first week in April of this year.