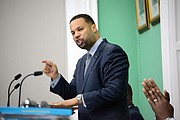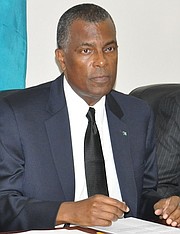 Reader poll
Yes, it was right to put out the advisory. 46%
No, it was not. 54%
312 total votes.
By KHRISNA VIRGIL
Deputy Chief Reporter
kvirgil@tribunemedia.net
FORT Charlotte MP Dr Andre Rollins has accused Foreign Affairs and Immigration Minister Fred Mitchell of engaging in "dumb diplomacy" and seeking to "benefit from global headlines" after his ministry issued a travel advisory warning Bahamians about interacting with police officers in the United States.
This, he told reporters outside of the House of Assembly yesterday, undermined the welfare of Bahamians.
The Bahamas' festering crime challenges, the MP insisted, rendered a "far greater case for alarm here at home" than anywhere else.
Dr Rollins was highly critical of the government's July 8 warning that advised Bahamians to comply and be extremely cautious when interacting with police in the US. The warning attracted international media attention and went viral on social media.

It reflected Mr Mitchell's personal views and was not based on any clear and present danger to Bahamians travelling to the US, Dr Rollins said.
"That's not smart politics, that's not smart diplomacy," he said. "That's dumb diplomacy and I think that it is time for ministers of the government, if they have personal views that suggest a lack of confidence, if those person's views would adversely impact the welfare of the Bahamian people, common sense ought to tell them keep those views to themselves or communicate them privately so that it is not misconstrued or misunderstood by the intended recipients.
"Because the flip side of what has happened now is that a greater spotlight has been shined on our country and our serious crime problem as a result of our criticism of law enforcement officers, the vast majority of whom are exemplary human beings who do a lot to promote the good name and reputation of the USA and who we continue to want to come and visit our shores."
Asked if he was of the view that the warning was a mistake or unnecessary, Dr Rollins responded: "Put it this way, my personal view on it is that without there being any clear and present danger to the Bahamian people interested in travelling to the US and there being a far greater case for alarm here at home with respect to our failure to protect the Bahamian people right here on our home turf.
"I think that if there was ever a need for an advisory forget about the minister of foreign affairs because clearly they don't deal with the domestic situation but there is a need for a reality check to be given to our government.
"So that instead of trying to paint a false narrative or picture of our country being safe with all of this talk of crime being down, the effort instead should be focused on being honest and transparent with the Bahamian people and acknowledging that they are far more likely to be the victims of crime here at home than they are if they travel abroad.
"I believe that without an economy that is doing well, without a country capable of saying that if you look at our performance we have done a lot to reduce crime, I don't believe we should be creating the perception that our people are somehow safer than places that are doing a far better job of protecting their citizens from crime or contributing to our success as an economy as weak as it is today."
Dr Rollins said rather than play political games, smarter diplomacy should have been applied.
He said the country has an economy that needs rebuilding and a society that needs to be made safer. These things, he said, should be where the emphasis and focus of this government is.
The Bahamas' travel advisory has sparked public debate since it was issued last Friday. It was due to heightened tensions over recent fatal police shootings in America of black men.
Four days after this advisory, the US issued its own travel warning, pointing to armed robberies and violent crime remaining a primary criminal threat. It noted that officials received reports of a significant increase in armed robberies throughout New Providence over the past six months.
While many observers thought the US warning was retaliation for the Bahamas' July 8 advisory, US Embassy spokesperson David Allen insisted on Tuesday that this was not the case.
Mr Allen said that the embassy recently put its staff and their families on alert due to increasing reports of armed robberies, and as such was legally required to issue a similar message to its citizens.
However, National Security Minister Dr Bernard Nottage has taken grave exception to the stinging US warning. On Wednesday he said the embassy is "wrong" and the assertions made in their latest crime advisory regarding The Bahamas are "not true".