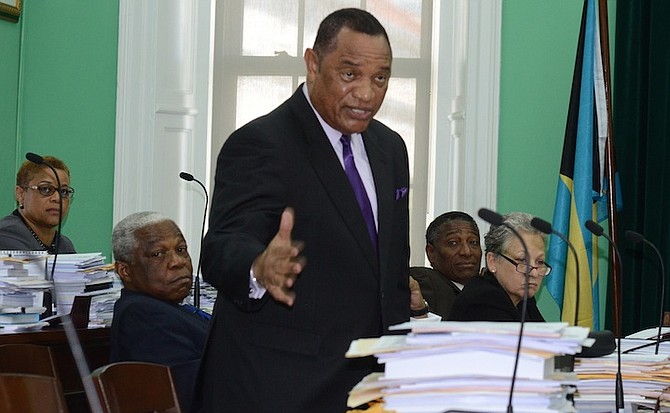 By RASHAD ROLLE
Tribune Staff Reporter
rrolle@tribunemedia.net
FOUR years after saying campaign financing in The Bahamas had sunken to "repugnant" and sometimes "criminal" levels, Prime Minister Perry Christie said yesterday that passing a law to address the issue has not been one of his administration's highest priorities.
He suggested that the government would begin publicly addressing the matter soon, but he did not say if a law on the matter would be enacted before the start of the general election.
His comments came during an appearance on the "Ed Fields Live" show on Kiss FM radio yesterday evening.
"Regrettably, the agenda of the government was as such where our legislative agenda just made that second place," he said, responding to a question from the show's co-host Rogan Smith.
"That is an important part of the process; electoral reform, we're going to see how we are going to get around to it. We have to go to Parliament with National Health Insurance (NHI) legislation that we just finished. We have a new bill on Grand Bahama to cover the major negotiations that took place there. We have a bill for a National Security Council that would help us better with crime. All of that people have been asking for so you can actually define the process to make more transparent what you are doing in matters of security. All of this has brought us to the point where the importance of campaign finance reform, electoral reform, took second place.
"We're going to try our best. We haven't yet named a constituency or Boundaries Commission as required by law, the register has now expired. We are on to a new register so you are going to find that we are going to begin a conversation on this matter shortly."
Attorney General Allyson Maynard Gibson has long said that her office is working on a campaign finance law.
Nonetheless, the lack of apparent progress the Christie administration has made toward implementing such legislation has symbolised his government's questionable commitment to transparency and accountability, some critics believe.
Damian Gomez, former state minister for legal affairs, recently told The Tribune that his attempt at getting his parliamentary colleagues to agree to establish a public registry system that would require them to disclose donors to their constituencies hit a wall.
"I asked but people don't want that sort of information out there," he said.
In its 2012 Electoral Observation Mission report on elections in the Bahamas, the Organisation of American States (OAS) recommended that the government implement campaign finance laws.
However, the body said the issue seemed less important to Bahamian politicians than it did to other stakeholders in the country.
More recently, campaign financing became an issue after Canadian fashion mogul Peter Nygard admitted to giving the Progressive Liberal Party $5m ahead of the last general election.