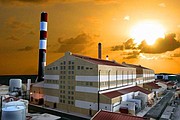 By SANCHESKA BROWN
Tribune Staff Reporter
sbrown@tribunemedia.net
BAHAMAS Power and Light has stopped its power outage rotations in New Providence "for now" and is in a "safe zone" after returning two engines on line, Corporate Communications Manager Arnette Ingraham said yesterday.
In an interview with The Tribune, Mrs Ingraham said the electricity provider is "doing pretty good at the moment" but warned that load shedding could begin again at anytime because "the old generators are unpredictable."
She also said the additional rental generators the corporation ordered should be in the country in "a few weeks".
Earlier this month, BPL announced "outage rotations" throughout New Providence as the corporation continued to grapple with "generation challenges" at its power stations.
Since then, BPL has been load shedding intermittently but there had been numerous power cuts before that.
Last week, BPL CEO Pam Hill blamed the outages on a lack of proper maintenance on the aging equipment as well as extreme heat.
Yesterday, Mrs Ingraham said customers can expect some relief, but she admitted that she had "no idea" how long the machines would remain operational.
"We are doing pretty good right now. We got two engines back up in the last 24 hours which is good news," Mrs Ingraham said.
"Which means all things remaining neutral we do not anticipate load shedding right now. We have no generation challenges right now. Please bear in mind that this situation can change daily, we do not know if an engine will go bad or when. We also have some planned maintenance that may affect the generation but we do not anticipate any generation challenges right now."
This comes months after the American company PowerSecure was contracted to take over management at the government-owned utility provider, which was formerly the Bahamas Electricity Corporation (BEC). The new management deal was touted by the government as being the answer to sub-par electricity service and high electricity bills.
Frequent power outages this summer have angered Bahamians, some of whom complain not only of having to deal with record heat without reliable electricity, but of having appliances destroyed as well because of the unpredictable power outages.
Some business owners have also complained about the effect of power outages on their establishments.
On Monday, Prime Minister Perry Christie admitted that the management of BPL failed to adequately prepare for generation challenges this summer.
"The difficulty is that I thought we had anticipated, that is the management of BEC and the management going forward, that we were going to have a bad summer and I knew that we had to have at least 40 megawatts in addition to what we have now - they were ordered late," Mr Christie said, referring to rental generators.
"The fact is (that the management is) anticipating relief by a certain date that they can give. And the relief would be where you add to the capacity as it exists now; the 40 megawatts that they say should be able to balance out the challenges that we have."
However, Mr Christie did not second-guess his government's decision to hire PowerSecure to manage BPL.