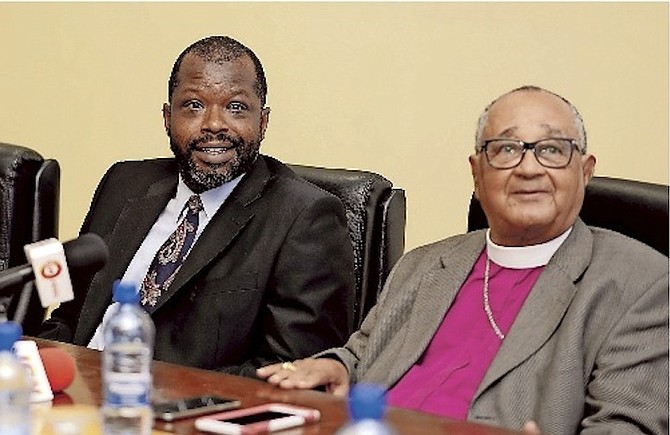 By NICO SCAVELLA
Tribune Staff Reporter
nscavella@tribunemedia.net
A well-known attorney yesterday dismissed the idea that were challenges in presenting the concept of parole to victims or persons affected by serious crime, claiming that the country's "wholly unsatisfactory" system of early custodial discharge is essentially parole without the requisite parameters.
Wayne Munroe, QC, a member of the Parole and Re-entry Steering Committee (PRSC), said the current modus operandi of allowing an inmate to be released from custody despite only serving two-thirds of his/her sentence is the same as granting parole without putting the necessary conditions in place for their release.
Mr Munroe also cautioned politicians to take the "mature approach" in allocating funds for the implementation of a parole system in the country, as he said failure to heed his advice would result in a "fairly brutal" response to "people who take petty views" on a serious matter.
Mr Munroe made his comments on the sidelines of a conference at Police Headquarters between members of the PRSC and senior members of the Royal Bahamas Police Force (RBPF) over the issue of a parole system in the country.
The PRSC has been appointed by the government to propose a policy framework for a parole system and interventions for the seamless reintegration of past offenders into Bahamian society.
However, as also acknowledged by PRSC Chairman and former Police Commissioner Paul Farquharson yesterday, the task of introducing parole to victims of and/or persons affected by serious crimes such as murder and rape, is a tall one, as those individuals would likely only be interested in and comfortable with punishment for the offender.
Mr Munroe said: "When we engage the starting point is going to be you ask that person who says they are a victim of crime or that their relative was, 'do you want to have any say about this person's release back into the community?'
"If the answer to that is 'yes, I want to have some say, because I see my value in being able to express what happened to me,' well the only way that can happen is with a parole system.
"And again people will be told that it's not a question of 'if' - most people are coming out of prison - the question is 'when', the question is who has a say in 'when', and the question is the conditions upon which they are released. The reality of it is that when you create a circumstance, you shouldn't be surprised with the outcome."
Mr Munroe said as it stands, convicts are sometimes released from custody after serving just two-thirds of their sentences, which he suggested is essentially the same thing as parole.
"...Although the prison is now moving to a correctional facility where they try to correct your behaviour, I think personally if I were a victim of crime, I would want to have some say on when the person was released and if they were released," he said. "And if they're not going to serve the whole sentence which is the whole reality, I would want them accountable for the part of the sentence that they are released early. Plain and simple.
"And so it should be very simple. I've said in blunt terms to everyone, we have a system, it's a wholly unsatisfactory system, it's a system that's bound to introduce problems, and it's not a question of whether you introduce a parole system, the only question is the parametres of it, because we already have it."
According to committee member and retired Anglican Archbishop Drexel Gomez, the PRSC has not yet approached the public on the matter, but said he expects the committee to engage in public meetings sometime in September. He said the PRSC has until November to present the policy framework to the government.
Regarding the issue of fund allocation for the implementation of a parole system, Mr Munroe said as he has given his "billable time freely" to the PRSC, politicians would be wise to use a "mature approach" when dealing with the matter.
"It's like if you put in a solar (power) system," he said. "It costs money to put it in, but you save something over the long run, and that is going to have to be the mature way in which politicians look at this. And if they don't look at it in that mature way, having given freely of my time, I will be fairly brutal in how I respond to people who take petty views on a serious matter."