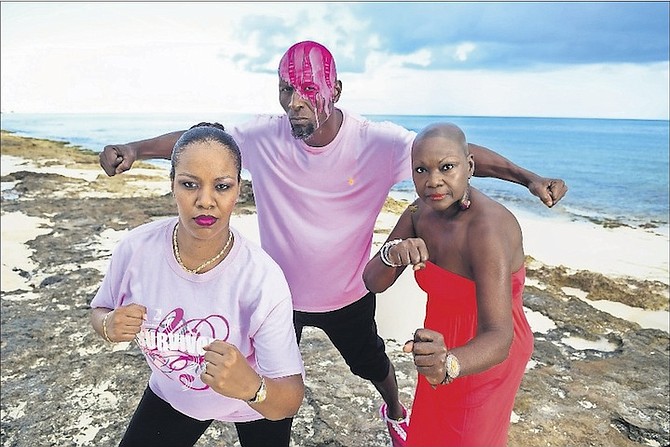 Survivors, supporters, fitness buffs and soca fans will be able to fete for a cause at CIBC FirstCaribbean's 'Soca for the Cure' event. Organisers promise this interactive fitness experience, which launches the fundraising season that leads up to the bank's fifth annual Walk for the Cure in October, will be unlike any other fundraiser, with soca fitness instructor Macumbla "Comby" Smith leading the charge.
The event will be held from 8am to 10am at the Meliá Nassau Beach. For a $15 donation, participants will join Comby in his aerobic workouts and will be treated to a live DJ and performances by dynamic Bahamian entertainers.
Healthy snacks and refreshments will be provided and CIBC FirstCaribbean and sponsors will be giving out a variety of exciting prizes throughout the event.
Comby, who will lead the "socaerobics" sessions, said he expects a big crowd and participants should come dressed to sweat and ready to party.
"Our idea is to create an atmosphere where people can let loose and turn fitness into fun. So on the 30th come with an open mind, because this isn't your traditional fitness experience. We will dance, shout and sweat. Prepare to party," he said. "We are expecting a big turnout. The room holds 300 people and we intend to fill it. My classes are bursting at the seams and I have 12,000 people following me on Facebook. I hope to translate that demand into a great turnout."
He said he is excited for the event and jumped at the opportunity when CIBC FirstCaribbean approached him.
"I created fitness programmes for CIBC FirstCaribbean's employees in the past, so when they reached out to me about having a fitness dance party there was no question about it. I am familiar with cancer. My mom is a cancer survivor, so I immediately jumped on board."
The event kick-starts the fundraising season which leads up to the bank's regional fundraising event, the Walk for the Cure, scheduled for October 2, 2016. This will mark the fifth year that CIBC FirstCaribbean will host the fun run/walk and each year the event grows larger in size and dollars raised. Last year, 1,000 participants registered for the Walk in the Bahamas and over $77,000 was donated to eight local cancer charities including Sister Sister Breast Cancer Support Groups of New Providence and Grand Bahama, the Cancer Society of the Bahamas, the Cancer Societies of Abaco, Eleuthera and Grand Bahama, the Cancer Association of Grand Bahama and the One Eleuthera Foundation. Supplemental fundraising events like Soca for the Cure are considered key in making the campaign a success by increasing awareness and helping to raise funds.
Comby said that these kinds of events play a large part in the fight against this devastating disease.
"It is important that Bahamians support events like Soca for the Cure. Cancer is rampant in our country. More than 65 per cent of the Bahamian population is obese. In my opinion, getting people to live more active and healthy lives is a big part of battling this disease. It's wonderful that CIBC FirstCaribbean is encouraging Bahamians to maintain a healthy lifestyle while supporting others through their participation in this event.
Maya Nottage, CIBC FirstCaribbean marketing manager and member of the committee for Walk for the Cure, said that the bank is looking forward to the kick off of their fundraising events.
"At CIBC FirstCaribbean, we believe that it's our duty as a good corporate citizen to continually support and have a positive impact on the communities that we serve. Many of our employees and their families have been affected by various forms of cancer, so naturally our team is very passionate about championing this cause," she said.