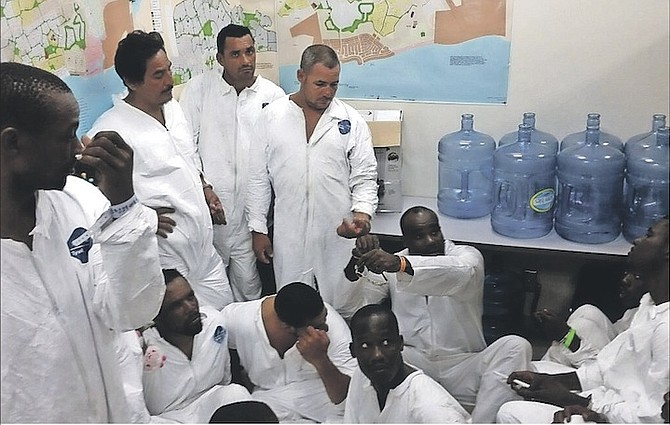 By DENISE MAYCOCK
Tribune Freeport Reporter
dmaycock@tribunemedia.net
FIFTEEN people who had paid more than $80,000 to be smuggled from Grand Bahama into the United States were left stranded on a disabled boat at sea by the captain, who promised to return after he had been picked up by another vessel.
The captain never returned and the people were adrift for four days before being rescued by the US Coast Guard and brought back to Freeport, where they were turned over to Bahamian authorities.    
Each person reportedly paid a sum of $5,500 to a Haitian-Bahamian man for the trip to the US, according to an immigration officer.
Immigration officer Napthali Cooper said investigations are underway into this latest attempted smuggling incident.
Mr Cooper reported that 15 people of mixed nationalities - nine Haitians (seven men and two woman), three Dominican men, one Jamaican man and one Bahamian man - were discovered onboard a disabled vessel by passing boaters who alerted the US Coast Guard.
The group reportedly left Grand Bahama at midnight on July 20. An hour and a half into the journey, the vessel developed engine trouble.
Mr Cooper said that the captain telephoned for help and another vessel later came and took only him. He promised to return later to fix the broken vessel.
"According to the group, the captain was never seen again. The group claimed that they hailed quite a few passing vessels to stop and who radioed the USCG for help and remained on the scene until help arrived," he said.
Mr Cooper said the group claimed that they remained adrift until Saturday morning when US Coast Guard arrived. 
After taking the group onboard their cutter, Coast Guard officials destroyed the vessel.
The group of 15 joined six other Cuban migrants who were also intercepted earlier at sea by the Coast Guard near Anguilla Cay.
The Cubans - five men and a woman - had left Cuba on a rustic vessel for a better life in Florida. Their vessel was also destroyed by the Coast Guard.
US Coast Guards arrived in Freeport on Tuesday around 3pm with the two groups. All 21 people were turned over to Bahamas Immigration officials, who were also assisted by Defence Force and Police Force officers.     
The group was taken to the Department of Immigration headquarters, where they were examined by officials of the Disease and Surveillance Unit at the Public Hospitals Authority and processed by immigration officials.
They were expected to be flown to Nassau, where they will be held at the Detention Centre to await repatriation.