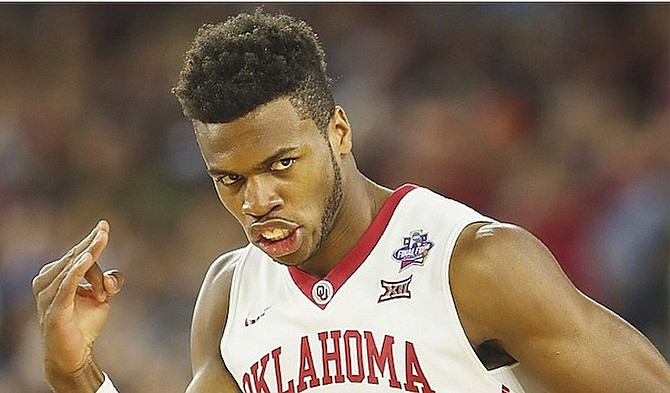 http://youtu.be/W6fLJIjn0-g
By RENALDO DORSETT
Sports Reporter
rdorsett@tribunemedia.net
WEEKS away from the NBA Draft, Bahamian basketball superstar Buddy Hield secured his first major endorsement deal with the leader in athletic footwear.
Hield has agreed to a multi-year footwear and apparel endorsement deal with Nike negotiated by his agent, Rob Pelinka of Landmark Sports.
Pelinka, who also represents James Harden, Dion Waiters and formerly Kevin Durant during his draft process, is responsible for Hield's contract and marketing, according to a source.
Hield's Nike signing came just days after the company also agreed to terms with projected top overall pick Ben Simmons.
He also follows WNBA lottery pick and fellow Grand Bahamian Jonquel Jones, who signed an endorsement deal with Nike in April.
Hield underwent his first workout of the process and scouts are already raving at the potential of the former Oklahoma Sooners guard.
Following his first workout in Anaheim, California, on Tuesday, ESPN Insider Chad Ford said Buddy's efficiency of his greatest skill was well on display – his shooting.
"Hield certainly looked the part as a shooter. He rarely missed shots, regardless of where he was on the floor. When the NBA 3-point line became boring (a line that is typically intimidating for college shooters, regardless of their skill), he was comfortable stepping back another five feet and hitting 20-of-25 from "Curry range" in one drill.
And Hield did it with all the confidence that he showed at Oklahoma last season. He believes he can be special - great shooters need that level of confidence," he said. "His confidence and quick release make him arguably the best shooter in this draft. In a league desperate for shooters, that only makes him a more attractive lottery pick."
Hield, expected to be one of the top selections in the June 23 Draft, completed his star-studded senior season for the Oklahoma Sooners with a litany of awards, including the John R Wooden, Naismith and Oscar Robertson Player of the Year trophies.
He is projected to have a likely destination of teams looking for shooting and backcourt help - the Boston Celtics, Minnesota Timberwolves, New Orleans Pelicans, Denver Nuggets or Sacramento Kings.
In his senior season at Oklahoma he averaged 25 points per game, shot 50 per cent from the field and 45 per cent from three-point range. He also made four three-point field goals per game and shot 88 per cent from the free throw line.