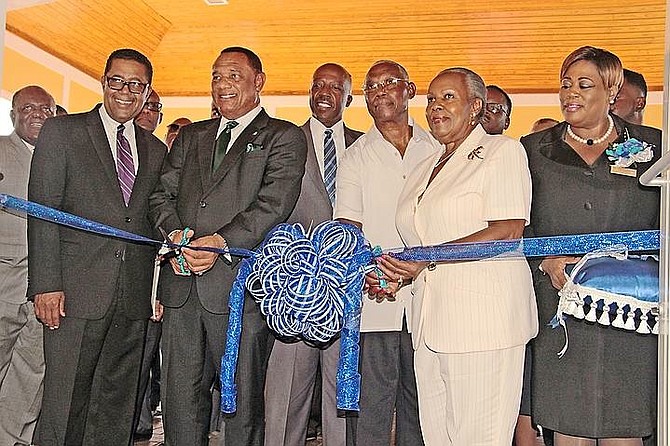 By RASHAD ROLLE
Tribune Staff Reporter
rrolle@tribunemedia.net
PRIME Minister Perry Christie commissioned the 35,000 square foot Child & Adolescent, Robert Smith and Special Education Complex yesterday, calling the state of the art mental health facility a pivotal step in the country's efforts to help children with behavioral and mental health issues.
Next Monday, the facility, which will feature up to 92 beds and provide out-patient services, will open its doors to prospective patients.
The complex was in the process of construction for nearly a decade, having been initiated by the first Christie administration.
As far back as 2012, Health Minister Dr Perry Gomez said the facility would be open in a matter of weeks.
It's unclear why that did not happen.
The National Insurance Board (NIB) was responsible for the facility until March of this year when it turned it over to the Public Hospital Authority (PHA).
Herbert Brown, director of the PHA, told The Tribune yesterday that in the last three months PHA worked to complete the facility and get it ready for opening.
"PHA has its own in house building and engineering team," he said.
He referred The Tribune to NIB when pressed on why it took so long for the facility to be ready for opening.
Up to press time yesterday, several officials also did not respond to questions about the overall cost of constructing and outfitting the multi-million dollar facility.
Reflecting on the length of time it took to reach this point, Mr Christie said during his speech yesterday: "Good things come to those who wait. Well I know we would've waited longer than we would've ordinarily expected, but here we are today commissioning this modern, state of the art, fully equipped and furnished public mental health facility."
Mr Brown said: "At the end of the day we are now ending up with a facility that I believe is unmatched in this part of the region and I think at the end of the day the Bahamian people and those who will benefit from this facility will certainly recognise that a significant investment has been put into making sure that we are able to care for those persons who cannot care for themselves."
Mr Brown said numerous staff, including doctors, nurses, patient care assistants and occupational therapists have been contracted to work at the facility.
During his half-hour speech, Mr Christie drew his largest applause when he struck a bipartisan note, mentioning former Prime Minister Hubert Ingraham, who was in attendance.

"I was pleasantly surprised to see the former prime minister," Mr Christie said. "Now many of you might (not) think I would be pleasantly surprised. But the second minister of national insurance was myself. The third minister was the former prime minister. I would've commissioned the first actuarial report and the report would've come out in time for him to begin the implementation of it. So you could understand when one of us would've said when he was the prime minister, some times you reap, and others sow; sometimes thou sow and others reap and vice versa. That is what is so enriching about our democracy, the fact that you are witnessing the work of not just a government but in the sense of the Constitution, government meaning whichever of the political parties is in, the work continues. And so I want to be able to begin my remarks by that particular observation that we are here celebrating a Bahamian achievement."