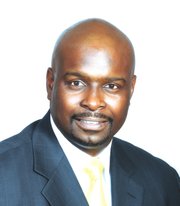 A LEADING environmentalist has praised Kenred Dorsett after his ministry's announcement this week of the launch a Youth Environmental Corps training up to 1,200 young people for jobs in the blue and green economies in the Bahamas.
Save The Bays Chairman Joe Darville described the initiative yesterday as "one of the most exciting, practical, important and useful programmes I have ever heard of any government proposing".
A retired educator who spent nearly half a century in various posts from counsellor to headmaster and organised Youth Environmental Ambassadors following his retirement, Mr Darville said the proposed programme "is a perfect marriage between the demands for skilled environmental management with the need for job training. Save The Bays, along with other advocacy groups including Waterkeeper Alliance, have long called for an understanding that it is not the economy or the environment but the economy and the environment that will lead to sustainable development and quality of life for all of us. The Youth Environmental Corps is a programme that fully recognises the economy and the environment go hand-in-hand."
Mr Dorsett announced details of the five-year plan aimed at tackling unemployment among those aged between 17 and 40 while providing jobs leading to a better environment. The Youth Environment Corps will work in conjunction with the Bahamas National Trust (BNT), the Bahamas Public Parks and Beaches Authority and the Forestry Unit in the Ministry of the Environment.
Mr Darville invited the government to extend its partnerships to include Save The Bays, whose Youth Environmental Ambassadors programme in Grand Bahama has already certified and graduated more than 100 participants. "We would be delighted to work with government and with the Environment Minister's programme in both establishing the needs and managing the day-to-day requirements of creating and maintaining a beautiful environment whether it is on land, in the wetlands or at sea," he said.
Among the key projects mentioned by Mr Dorsett is the proposed new Lake Killarney National Park and the National Hero's Garden. If the Lake Killarney park is approved, it will include nearly 20 acres of walking trails and boardwalks. In the past, the 'big lake' in the centre of New Providence has been maintained by avid seasonal hunters who manage and respect the mangroves and strive to keep the lake in its most natural state. If the park is approved, the lake will be available for kayaking, swimming and snorkelling.
The Hero's Garden will be located inside the Botanical Gardens, Chippingham.
"The Youth Environmental Corps will help to reduce the economic gap and enhance our ability to protect and manage these resources," said Mr Dorsett, referring to the many national parks the BNT manages and the local parks and beaches that are the responsibility of the recently-created Parks and Beaches Authority.