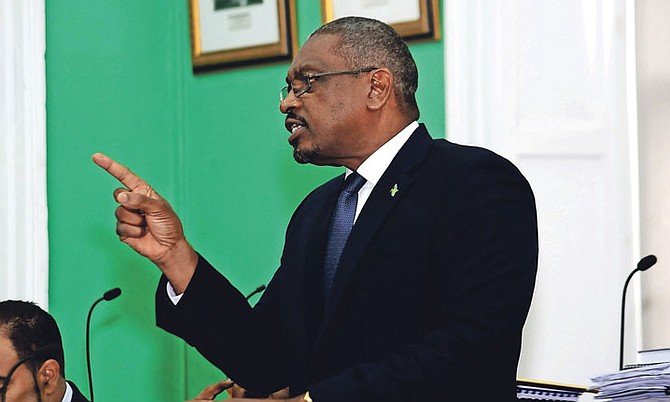 FREE National Movement Leader Dr Hubert Minnis criticised the government yesterday, saying that the last four years have been characterised by rising national debt, no accountability, a low growth rate, high unemployment and an unacceptable rate of violent crime.

"The people know this reality because they are forced to live through this reality each and every day," Dr Minnis said in a statement. "Yet, instead of working to reduce all this chaos, this PLP government is responsible for accelerating The Bahamas' decline through a staggering lack of transparency, blatant partisanship and an ego-driven political decision-making process that only serves to enrich themselves at the people's expense."
He added that the Christie administration's legacy will be a series "of broken promises and empty rhetoric".

"They told us they would target crime and we see murders hitting record highs – even as the PLP government tries to pass this off as 'unusual'.

"They promised us great economic benefits with Baha Mar – good jobs and a boost to tourism. Yet tourism continues to decline; the 5,000 jobs they promised never materialised and Baha Mar sits incomplete and empty. This government continues to operate in a veil of secrecy, withholding from the public vital information on their clandestine meetings, talks, and or agreement of a potential give-away to unknown Chinese investors. Why the secrecy?
"The FNM stands for transparency. We will fight to strengthen our economy. We will relentlessly attack the long simmering problem of crime and its root causes. We will rebuild our country's ageing infrastructure and put in place social programmes to aid Bahamians young and old especially during difficult times," Dr Minnis said.

Yesterday, in a separate statement FNM Chairman Sidney Collie chastised Prime Minister Perry Christie for not revealing the full details behind negotiations over Baha Mar with Chinese officials.
"Who benefits by this secret deal? Not our people, not our workers, not our contractors," Mr Collie said. "If they are not paid for the work done, then any secret deal would only benefit the Chinese and this government who continues to seek headlines in an election year."