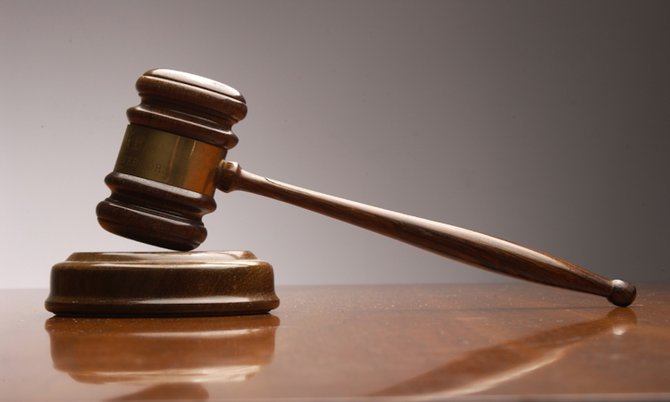 By DENISE MAYCOCK
Tribune Freeport Reporter
dmaycock@tribunemedia.net
BASIL Black told the Supreme Court yesterday that he was a "cocaine" pusher but not a killer and denied shooting his 15-year-old girlfriend outside a sports bar in Eight Mile Rock over a year ago.
Black, 35, of Pinedale, Eight Mile Rock, is representing himself at his murder trial, and gave evidence from the witness box.
He is accused of shooting to death 15-year-old Alexis Smith at the Platinum Sports bar sometime around 3am on March 30, 2014. He is also accused of two counts of assault on a police officer and resisting arrest.
While giving testimony under oath, the accused said that he and Alexis had lived together and were involved in an intimate relationship. He claimed that he never knew her age.
According to Black, sometime on March 29 he had given his girlfriend about $330 to buy herself an outfit, get her hair done and to purchase a cellular phone.
Later that evening, he met up with Alexis, her sister, Samantha, and her friend, Momo, at the sports bar. He called her on his cell phone and told her that he was outside the club.
Black said Alexis came out and they went back into the sports bar together, where she introduced him to her sister. He said he had given her $50 to buy everyone a drink and $20 to get him three Guinness.
Black said he was drinking while Alexis and Momo were dancing and he noticed some men recording them on their cellular phones. He said they also bought a bottle of Trivento.  
He said that Alexis told him she was drunk and walked outside. After she did not return, he went outside and saw her on the ground in a pool of blood. He said that he felt her stomach and for a pulse.
"I asked Alexis what happened, and I was over her body," he recalled. "I saw police lights flashing and I remembered I had drugs on me; I sell powder cocaine in little packets in the club and that's how I make money," he told the Court. "I ran to the basketball court and then I went home to sleep."
The next morning, he was arrested by police at his residence. He claimed that officers beat him at his residence and then took him to Holmes Rock in the pine forest, where they allegedly gunbutted him in his back and stomped on his shoulder with their boots, all while being handcuffed from behind.
Prosecutor Erica Kemp put it to Black that he was making up stories about being taken to Holmes Rock and beaten by officers.
"When Dr Fermo came here, he read the notes of Dr Hussein who saw you. You said you were beaten at your home in Pinedale, you never told the doctor about being beaten in Holmes Rock," said the prosecutor.
Black agreed that he never told the doctor about being beaten in Holmes Rock.
When Mrs Kemp asked Black if he knew that Alexis was 15, he said never knew her age. He said they began seeing each other in February. "How old were you at the time?" she asked. "Thirty-four," he replied.
Mrs Kemp put it to Black that he was jealous because Alexis was dancing with Kengie, who was about the same age as her. 
"You spent a lot of money on your girlfriend and she was at the club dancing with Kengie and some other males, and you felt disrespected," she said to Black. But he denied that that happened. 
"You pulled out a small silver gun with a black handle from your pocket, and said to your 15-year-old girlfriend, 'let's go home,' … but Alexis wanted to stay at the club and have some fun with her peers," she probed.
"Not so," replied Black.
"You fired a shot and Alexis put her hands over her ears, and then you shot her in the back of her head," Mrs Kemp said. "You tried to pull her up and that's how blood got on your shirt."
Black denied the prosecutor's assertions.
Mrs Kemp asked Black that if he did not kill Alexis, why did he flee the scene and why hadn't he gone to the police to make a complaint. "This is your girlfriend on the ground bleeding and you fled?"
Black said that initially he ran to the basketball court and then later went home because he did not want to get "busted" by the police with cocaine in his possession. 
She also accused Black of getting rid of the gun that night by hiding it somewhere on his way home.
"When you were arrested and sent to prison on remand, you used a cell phone from there and called your baby's mother's brother and told him where the gun was, to go retrieve it  and sell it,"
"No, that isn't so," Black said.
Mrs Kemp also accused Black of resisting arrest and fighting with police on the morning of his arrest on March 30. "You kicked Officer Russell and you punched Sgt Johnson in the shoulder. They had to subdue you, and that is when you received an injury to your back and scratches and scrapes on your leg," she claimed. But Black denied fighting with officers or resisting.
The trial resumes today when the case is expected to wrap up. Justice Estelle Gray Evans is presiding over the matter, which is before a jury of seven men and five women.