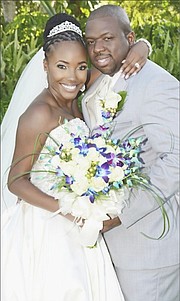 By Jeffarah Gibson
Tribune Features Writer
jgibson@tribunemedia.net
MOST brides-to-be will agree that in the weeks leading up to the big day there always seems so much more to be done than time allows. Though she is not walking down the aisle or planning her own wedding, veteran bridal consultant Makeva Wallace finds herself in this predicament.
There are just few more days to go and tons of details to iron out before the 28th annual Bahamas Bridal Show kicks off this Sunday. However, being the multi-faceted woman she is, Makeva – with the help of her team – is getting the job done.
For the past decade, Makeva has worked behind the scenes to ensure that the popular event, which is presented by Buttons Formal Wear, is fun, exciting and runs smoothly.
This year's show will be held at Meliá Nassau Beach Resort beginning at 12pm.
The event will feature will everything needed for weddings, proms and other special events.
"This is 'where wedding dreams begin', so this is exciting and nerve-racking for me," said Makeva, who is also managing director at Buttons Bridal Formal Wear.
"I haven't had a good night's sleep in weeks."
Makeva's role includes, but is not limited to, deciding what bridal styles hit the runway as wells as choreographing the fashion show segment – one of the most anticipated aspects of the event.
"Apart from coordinating the 45 plus exhibitors and assisting other interested business participants, this is the first time in years we'll have more than two businesses featured in the fashion show, which is wonderful and mind-boggling, all at the same time," said Makeva.
"It's my responsibility to make sure all presentations meet the bridal show quality standards and that the audience love what they see in the trade show and on the stages," she said.

"My husband calls me a warrior. I only feel tired when I'm ready for bed. There is too much excitement and not enough hours in the day right now."
In show emcee Nicole Henderson-Smith, Makeva said she has a valuable assistant. Together they plan the entire fashion show and deal with the exhibitors, most of whom don't take their exhibiting seriously until a few days before the actual show, according to Nicole.
"It would certainly be easier on show organisers if most of the exhibitors were better prepared. But we take pride in helping them get ready for show time. We want them all to have a successful business season," Nicole said.
During the event, there will be a variety of activities including games such as "Keep It or Switch It", "Gone Shopping" and "Sing to Me". Show organisers are still rounding up gifts, some coming from businesses that not even exhibiting, like Furniture Plus, AID, Bahamasair and Atlantis.
"We truly have some generous people in this community who seldom get any recognition," said Nicole. "We thank them all from the bottom of our hearts on behalf of the hundreds of brides and grooms-to-be," she said.
Gifts include five honeymoon getaways, round-trip airfares, gowns and tuxedos for an entire wedding party, a shopping spree, decoration for reception venues, and engagement and wedding photo shoots.
As for getting the models all dressed up, Makeva said the audience can anticipate something very unusual in bridal attire this weekend as couples dare to be different.
"They asked for it, so they will get it," she said.
"Apart from the actual show, the best part is when it's over. I'd like to get back to being a normal person and cook a decent meal for my husband and daughter. I could finally shut off all cell phones when I get home and no more alarm clock."