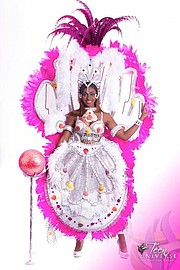 Miss Bahamas Teenager Davette Strachan made the top 15 in the Miss Teen Universe Pageant in San Jose, Costa Rica.
Davette represented the Bahamas to compete against 35 beauties from around the world. The international pageant hosted the teens for one week, during which they participated in preliminary events that included swims suit, evening gown, national cultural dance and costume competitions.
Miss Bahamas Teenager Organisation's director, Anishka Lockhart also walked away with a prize: she was named the Most Outstanding National Director.
Davette is a 17-year-old student of West Minister College and was crowned Miss Bahamas Teenager in June 2015.
To fulfil her platfrom of affecting positive change, Davette pledged to assist young boys and girls who are less fortunate and began her community service at the mission centre on Quakoo Street and the Children's Emergency Hostel, where she assisted the kids with their homework, allowed them to express their feelings and provided them with meals on Saturdays. After obtaining her title, she also participated in a raffle that raised funds for the AIDS Foundation.
Davette has described her experience at the Miss Teen Universe Pageant as intense. All the rehearsals, photo shoots, tours and competitions, she said, have proven to her why her pageant training is so vital.

She further stated that these experience have made her a more resilient person. The great part about competing in the Miss Teen Universe Pageant, she said, was that she was afforded the opportunity to compete in a beautiful country. Davette said she was amazed by the natural beauty of Costa Rica, and noted that this was her first time seeing mountains.
She was also excited about meeting the other contestants. Although they all hailed from different parts of the world, Davette said, they shared a lot of similarities.
Davette advises young ladies who are interested in pageantry to follow a pageant before entering; to be prepared; to ensure that they have a platform and are passionate about pursuing their dreams.
The teen said she "is not looking for recognition, but to fulfil my mandate and desire to help others who are not as fortunate as I am."
Davette will continue with her community service and strive to be a positive role model and youth ambassador for the Bahamas.