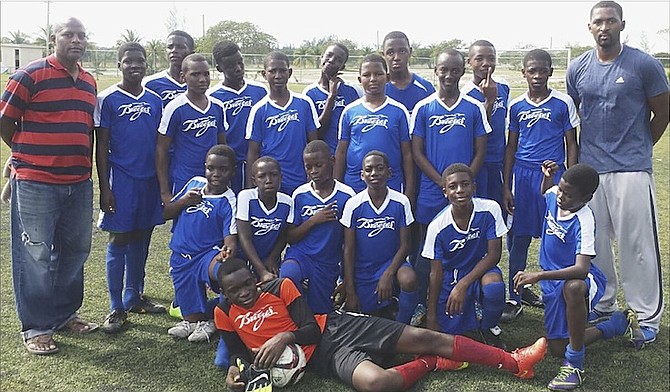 WHEN the Breezes Eagles Football Club approached the Bahamas Football Association (BFA) about joining in 2014, they learned of the BFA mandate requiring them to develop a youth feeder programme as a membership criteria. They accepted the challenge.
"We were excited about doing something with the youth," said Vernal Rolle, Eagles Club president. "Our kids need healthy outlets and you really can't get much better than soccer, one of the world's most popular sports."
Rolle, and his brother Ricardo McPhee, who has played in the league since 1998, along with Sherwaine Arthurs, a stand-out-top-scoring senior team player, set out to recruit their inaugural youth teams.
They started with the senior team players' families first. "We really wanted this to be a family thing. If dad is already involved, we figured we'd build on that," noted Rolle. Then they visited and met with officials in schools like SC McPherson and Centreville Primary who sent promising prospects along.
Finally, some neighbourhood children wanted in on all the action they saw every Tuesday and Thursday evening at the Stapleton Gardens Park practices and so they came too. In all, 22 children were recruited.
And they're good.
"Although the junior team just got started in August 2015, they are currently holding their own in the league," commented Rolle.
"We're currently in a knockout competition and the team will play in the semi-finals next weekend. On our under-14 team, we have Jamal Nicholls, a striker with 18 goals for the season already. So it's good to see them doing well so quickly. I always tell the team 'you will get what you put in, on and off the field' and they are taking it to heart."
But the Breezes Eagles FC isn't just about the kids playing soccer. "It's not just about playing ball all the time. We're more about keeping the boys together and we have a wonderful programme we are putting in place."
It's a dedicated effort. Rolle uses his personal van to collect players and he and the coaches often take the boys for pizza after practice. They've started a Prep Time programme when team managers take a look at homework to determine where the boys are in their studies.
Annual Appreciation Dinners and Family Fun Days are planned and they've even raised funds for players' personal injury insurance so that the medical expenses associated with any soccer-related injuries are taken care of.
"Breezes Eagles FC work with their youth programme is such a great story," said Frederick Lunn, general secretary in the BFA. "They were asked to put together a team but they are doing so much more than that. They're fostering a family. They are doing their part to build community. Breezes sponsorship demonstrates a great way for corporate Bahamas to help develop our youth while being involved in one of the world's largest sports. We highly commend Superclubs Breezes and the Breezes Eagles FC management team for the fantastic job they're doing."
Teaching Eagles To Fly – The Bahamas Football Association (BFA) challenged the Breezes Eagles FC to develop a youth team. They've done that and more, not only launching winning under-14 teams last August but also developing an invaluable programme that's about even more than playing soccer.