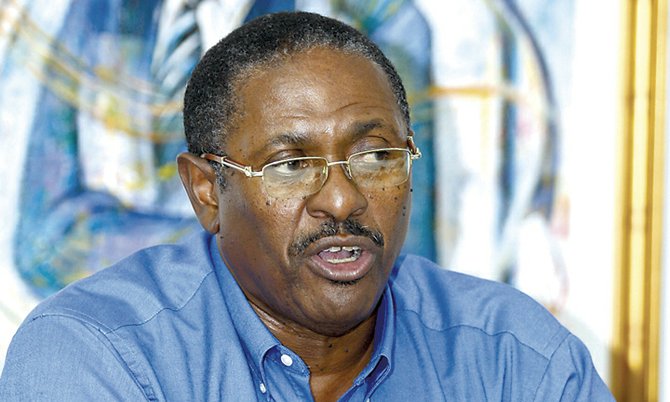 By RICARDO WELLS
Tribune Staff Reporter
rwells@tribunemedia.net
PROGRESSIVE Liberal Party (PLP) Chairman Bradley Roberts yesterday scoffed at the reaction of Dr Hubert Minnis in the wake of the resignation of Free National Movement (FNM) Chairman Michael Pintard, suggesting that the Opposition Leader's poor leadership led to the failure of yet another promising politician.
At the PLP's Joe Farrington Road headquarters, Mr Roberts said while his party finds no joy in Mr Pintard's failures, his party was not surprised at the resignation. The former Bain and Grants Town representative placed the blame squarely at the feet of Dr Minnis.
"He (Dr Minnis) has a duty to properly mentor, steer, direct and advise young politicians in his caucus and under his charge as to the honour and integrity required in public office," said Mr Roberts. "Once again Dr Minnis' leadership was weighed in the balance and was found woefully wanting. Rather than be the solid and exemplary leader to his colleagues, Dr Minnis failed miserably in the dispatch of his duty and as a result Mr Pintard has become a casualty of an avoidable situation."
Mr Pintard announced his decision to tender his resignation, effective immediately, from public office in a series of Facebook posts yesterday morning over his involvement in the Save the Bays (STB) lawsuit against Canadian fashion mogul Peter Nygard. However he stressed that his decision was not an admission of guilt or wrongdoing.
Mr Roberts said Dr Minnis' acknowledgement and endorsement of Mr Pintard's dealings with STB last week gave the impression that the two men were on the same page about the matter.
"Given the foregoing, I have no reservation in condemning Dr Minnis for demonstrating incredibly poor judgment and rank complicity in this sordid affair. He had a responsibility to refer this entire matter to the appropriate authorities," said Mr Roberts, who has repeatedly called for Mr Pintard's resignation over the matter.
"This is the second chairman of the FNM under the leadership of Dr Minnis that has become embroiled in alleged acts of impropriety. This too reflects negatively on the leadership and ethical character of Dr Minnis. In the end, Dr Minnis must account to the Bahamian people about what he knew and when he knew it. What is increasingly worrisome is Dr Minnis' failure to rebuke and condemn the actions of his colleagues."
However, when contacted yesterday, former FNM Senator Dr Duane Sands said the allegations levelled against Mr Pintard could not be further from the truth, suggesting that his party colleague has restored trust and ethics within the country's political system.
"Mr Pintard did something that many of those siting government members should have done long ago; he did the honourable thing. The thing most persons embroiled in controversy should do. He walked away and saved his office the shame of having this situation play out publicly. That is what one should do. That is what the DPM, Philip 'Brave' Davis, should do and the Agriculture Minister V Alfred Gray should do. Instead, they have brought shame and distrust into these honourable offices."
Dr Sands said Mr Pintard has nothing to feel embarrassed about, nor does his resignation signal wrongdoing.
Mr Pintard has been mired in controversy since he was named in a lawsuit filed on March 9 against Mr Nygard and lawyer Keod Smith by four Save The Bays (STB) directors - Joseph Darville, Romauld Ferreira, Fred Smith and Louis Bacon - and Reverend CB Moss.
That lawsuit alleged that Mr Nygard hired two men to commit crimes. It has since been revealed that Mr Pintard, who has worked with STB, met with the "gang members" named in court documents several times in 2015 about the allegations and discussed payment for their evidence against Mr Nygard.
In subsequent court documents filed by Mr Nygard yesterday, it is alleged that Mr Pintard and Mr Bacon committed criminal activities while participating in a plan to implicate him in a murder plot.