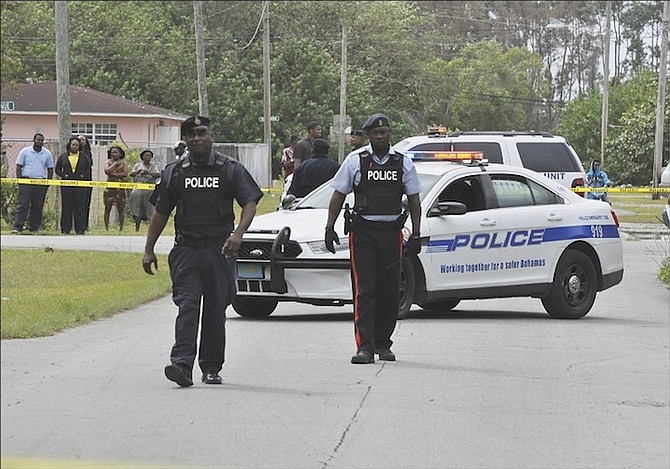 By DENISE MAYCOCK
Tribune Freeport Reporter
dmaycock@tribunemedia.net
A SHOOTING in Freeport has left a man and a woman dead, and a third person critically injured and clinging to life in the critical care unit at the Rand Memorial Hospital in Grand Bahama.

According to police reports, around 11.30am yesterday, a gunman shot three persons inside a wooden shack on an unnamed road between Hearn Lane and Bruce Avenue.
When police arrived at the scene, one of the victims - a woman - was already dead.
Two other victims - a man and another woman - were taken to the hospital, where the man later died from his injuries.
The motive for the shooting is not known and police are appealing to the public for information to assist them with their investigation.
Senior Assistant Commissioner of Police Emrick Seymour revealed that police do not yet know the relationship of the victims or who is responsible for the killings.
"We have two deceased and one is in hospital," Mr Seymour told reporters at the scene. "At the moment we don't have any further information with regard to the motive or how they came by their injuries and who is responsible (for this).
"It is a sad day for us, as I am sure for the entire community, where two persons have lost their lives senselessly in Grand Bahama. And so we appeal to members of the public who have information regarding this incident to come forward so we can bring the matter to a conclusion."
When asked the identities and relations of the victims, Senior ACP Seymour said that police were still in the early stages of their investigations. "We don't have the relations between the three, but all that information will be determined as the investigation unfolds; it is very fluid at the moment," he said.
According to The Tribune's records, the two killings pushed the country's murder count to 28 for the year, including four homicides in Grand Bahama. All of those incidents took place in areas that are known hot zones for criminal activities in Freeport.
The island's first homicide in 2016 occurred on January 25 when Eleazor Louis, 23, was shot dead at Murchinson Drive and Bass Lane. On February 20 Johnson Laguerre, 35, was shot multiple times on Weddell Avenue. Yesterday's shootings occurred within the same neighbourhood block as the two previous killings.