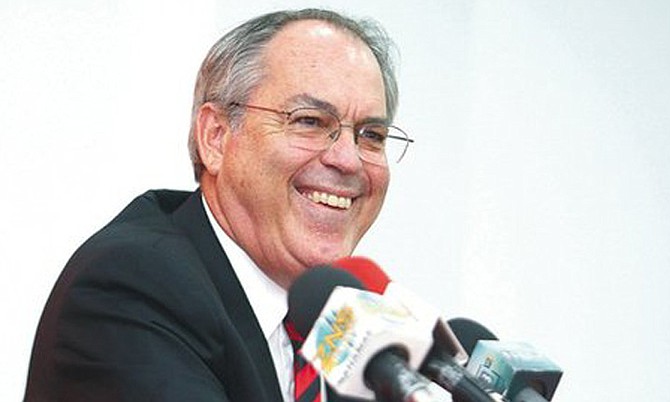 By AVA TURNQUEST
Tribune Chief Reporter
aturnquest@tribunemedia.net
FORMER Deputy Prime Minister Brent Symonette yesterday called for Minister of Works Philip "Brave" Davis to resign his Cabinet post until allegations over his role in the alleged murder for hire plot between Peter Nygard and Save The Bays (STB) are fully investigated.
Mr Symonette said former Free National Movement (FNM) Chairman Michael Pintard made the right move when he resigned on Monday, and suggested that Mr Davis, the Deputy Prime Minister, should do likewise.
"I think Pintard's move was the correct thing to do for the FNM," he said.
"What he said was not an admission of guilt but to allow the issue not to impact his political party.
"In light of other allegations swirling around in the press, the government side should do likewise. Historically when their members are accused of doing something they go on the attack and blame the messengers. They should do the normal thing and resign while allegations are being investigated," Mr Symonette added.
A Supreme Court filing on March 9 by Lyford Cay billionaire Louis Bacon and other STB directors, which alleges that Mr Nygard hired Livingston "Toggie" Bullard and Wisler "Bobo" Davilma to commit criminal acts, has incited fierce political debate.
The men were sent to Mr Nygard by Mr Davis to protect the fashion mogul's local interests as a major campaign backer of the Progressive Liberal Party, according to court documents.
Mr Davis and Prime Minister Perry Christie were repeatedly named in a series of covert video recordings of Mr Nygard and the two "gang members", which were also filed in court.
Mr Nygard has since filed an affidavit by an employee, along with sworn statements from Mr Bullard and Mr Davilma that were taken in March 2015 in Canada, which contradict STB's evidence.
The men claim that Mr Pintard negotiated payment for their "false testimony".
Mr Davis has acknowledged that he knew the criminals for several years; however he later said that by publishing from affidavits that purport he had a close relationship with the men, The Tribune was conducting a "shameful" smear campaign against him.
Last week in the House of Assembly, Fort Charlotte MP Dr Andre Rollins said he had two versions of the sworn statements that were released by Mr Nygard's public relations team. Dr Rollins said he was tabling a "doctored" affidavit, as well as the unredacted version, which repeatedly mentions Mr Davis. He claimed the unredacted version showed that Mr Davis "coached" the two men "who the government calls criminals".
However Speaker of the House Dr Kendal Major has not accepted the documents but is expected to make a decision on the matter soon.
Mr Pintard resigned as chairman of the FNM and as a senator on Monday due to concerns over his role in the STB investigation.
When asked for comment yesterday, FNM Senator Carl Bethel said the executive and council of the party will decide on whether to hold a full election to fill the vacancy or allow for an interim officer until the convention later this year.
Mr Bethel said: "[Pintard's] made his decision, it's done. What I wonder is, why is all this focus on three meetings the leader had with 'Toggie' [Mr Bullard] and nobody asks Brave Davis to explain his relationship with them, when they're on record saying he assigned them to do some work for Nygard?"
Yesterday, Mr Symonette added: "It would be fitting and show political maturity if he [Mr Davis] would resign his Cabinet post while the matter is being investigated. The same was true about Mr Gray."
Mr Symonette was referring to the investigation into whether MICAL MP V Alfred Gray abused his power by contacting Mayaguana administrator Zephaniah Newbold about a man convicted on the island and sentenced to prison.
After the controversy broke, Mr Gray asked Prime Minister Perry Christie to relieve him of his local government portfolio pending the result of a police investigation.
No charges were ever filed in connection with that investigation. Minister of Financial Services Hope Strachan now has local government in her portfolio.