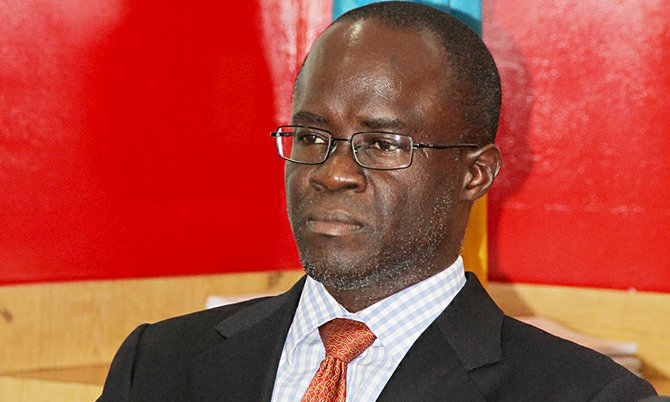 By KHRISNA VIRGIL
Tribune Staff Reporter
kvirgil@tribunemedia.net
FORMER Free National Movement Chairman Darron Cash was adamant yesterday that a "clean up" of the FNM must take place, as the party could not contest the next general election with "splintered leadership".
An early convention, Mr Cash said, was the only credible solution to the "current morass" the party now faces. He said anyone who disagreed with this is "deluding" themselves.
He was responding to the leak – which he called a "bad idea" – of a chain of emails sent among FNM members of Parliament after Fort Charlotte MP Dr Andre Rollins wrote to party Leader Dr Hubert Minnis asking for his consideration in appointing Dr Duane Sands to the Senate.
Dr Rollins asked for Dr Sands to replace Senator Kwasi Thompson as he said he was informed that the senator would not be seeking re-election in the next general election. He further argued that the appointment of Dr Sands to the Senate would signal that the FNM was readying itself to "bring the fight" to the Progressive Liberal Party.
Several FNM MPs including Long Island MP Loretta Butler-Turner, St Anne's MP Hubert Chipman, Central and South Abaco MP Edison Key and Montagu MP Richard Lightbourn responded in the email chain expressing support for the decision. Some of the replies in the email chain appeared critical of the party's leadership.
"It is my considered view that the FNM needs an early convention," Mr Cash wrote yesterday in the last of three related posts on his Facebook page.
"For a spell it seemed that we could survive without a convention that involved a leadership showdown. I no longer feel that is possible or wise even if it was. It would be unwise to permit the recurring circular firing squad to continue for months. Men and women of courage can face firing squads. But it is worse when you do not know where the shots are coming from, as in the leak of the 'communication'."
He continued: "Clean up must take place and the party must then move forward. The FNM cannot persist in being a party of splintered leadership at the top. An early convention is the only credible solution to the current morass. In my view, anyone who suggests otherwise is deluding themselves."
Mr Cash also stressed that the constant leak of the FNM's internal communications reflected poorly on its members who now appear unable to keep their own secrets.
"Add to that the irony that upon taking the oath as Cabinet ministers, members of this now government-in-waiting will swear that they will not divulge Cabinet secrets. The fresh Cabinet manual will instruct them that 'in no circumstance may the nature of the discussion or of the opinions expressed by individual members of Cabinet be divulged.' From the outside looking in it appears that no one should be trusted. This is after all a very small group. I have not seen the 'communication' but I would be interested to know if Dr Minnis had anything to say. After all, both he and I have been here before on the receiving end of leaks."
Mr Cash also said presidents and prime ministers go to great lengths to prevent the public release of advice given to them primarily so that advisors can speak freely and honestly. Public release of that advice, especially when it is not on a policy matter, is counterproductive, Mr Cash said.
Mr Cash served as FNM chairman from 2012 to 2014. In November of that year, he contested the FNM deputy leader's position at the party's convention, but lost to East Grand Bahama MP Peter Turnquest.
The FNM's next convention is scheduled for November.