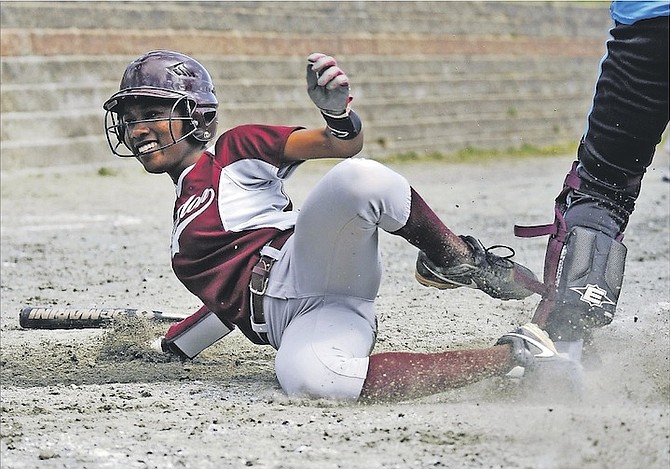 By BRENT STUBBS
Senior Sports Reporter
bstubbs@tribunemedia.net
IT has been quite a while since any Bahamian female softball player has been able to make an impact in high school or college/university in the United States. Kendalia Turner is hoping to be the next player in the list of local performers.
Now in her final year at Lyndon Institute in Vermont, Turner has performed so well for the Vikings girls' softball team that the talented shortstop has secured an athletic scholarship to attend Georgian Court University in New Jersey.
"I'm pretty excited and the coach is pretty excited (about me coming there)," said Turner about her next transition as she continues to play from the shortstop position. "I should be going in June to register for classes and get assigned a dorm."
The Vikings are currently riding an impressive 5-0 win-loss record and Turner, who has batted in the lead off position in every game so far, has led by example, getting at least two hits per game and was named as a defensive player of one of their games.
Last week, Turner was named the Athlete of the Week. After she came up with a walk-off home run to win their third game of the season. "It's a pretty good start," Turner told The Tribune.
With a total of 15 games to play, Turner and the Vikings will play until May 27 when the regular season comes to a close. The playoffs will follow.
In 2014, Turner left the Charles W Saunders High School in grade 10 to join Queen's College's graduate Kevinique Ferguson, who is currently recuperating from a broken leg in an injury she sustained while sliding to third base in one of their games.
For Turner, the experience of playing softball in the United States is something that she wouldn't trade in for anything in the world.
"I see faster pitching here," she said. "The school league is difference. It's more competitive. The first year I came here, I played night league, but I didn't see that fast pitching that I got here.
"It allowed me to go back into the New Providence Softball Association and to get in the hits. I wasn't hitting the ball as much in high school (in the Bahamas), but I'm hitting the ball here a lot."
Before she left, Turner played with the Proper Care Pool Lady Sharks, managed then by Stephen 'Bishop' Beneby, in the New Providence Softball Association. She's now on the roster of the Bommer G Lady Operators.
Turner thanked Beneby, who helped to facilitate the move to the United States along with Patrick from Grand Bahama.
Her mother, Vashti Turner, said her 17-year-old daughter is coming to come into her own.
"I'm really overwhelmed and lost for words," Mrs Turner said. "She's doing very well and her playing ability has increased a lot. It is a joy really to watch her play.
"She's very consistent with practicing and willing to enhance her skills. She's starting to develop into a very good ball player and she is very disciplined. She takes the game very serious. Once she is playing, she put her all into it."
Turner's sister, Mia, will graduate from Charles W. Saunders on June 5 and her mother said she's looking to her go of to the United States to continue her education and further enhance her softball skills as well.
Turner and the Vikins will be back in action on Thursday.