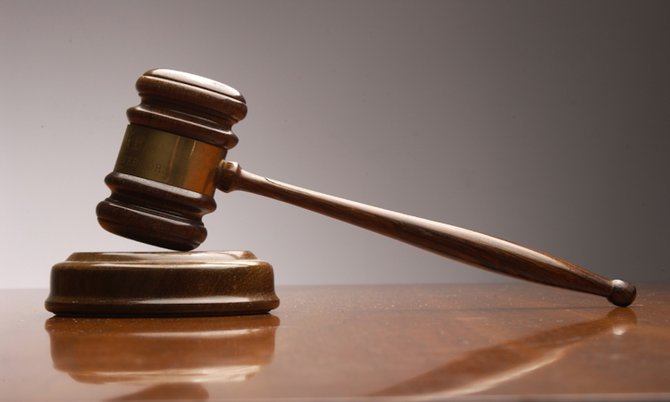 By LAMECH JOHNSON
Tribune Staff Reporter
ljohnson@tribunemedia.net
A MAN who was to financially benefit from his lover's death was told by Court of Appeal judges yesterday that he could have been on death row for his conviction for the crime as they dismissed his appeal against his sentence.
Benjamin McPhee, 47, and his lawyer Anthony Newbold, appeared before Justices Dame Anita Allen, Jon Isaacs and Stella Crane-Scott contesting a 40-year sentence McPhee received for the March 2011 murder of Elex Tina McKenzie.
McPhee and 27-year-old Shanice Rolle were convicted by a jury and then sentenced by Justice Bernard Turner to prison sentences of 38 years and seven months and 29 years and four months respectively.
The sentences reflected their respective months – 17 and eight – on remand awaiting trial.
McPhee abandoned his appeal against conviction but maintained his appeal against sentence.
"Where did the court go wrong?" Dame Anita asked.
"We're saying the sentence is unduly severe," Mr Newbold answered, citing the Privy Council's decision of Maxo Tido as a reference.
"The Crown did not apply for the death penalty. So the range of sentences that could have been imposed was zero to life. The learned judge imposed a determinant sentence of 40 years," Justice Isaacs said.
"Prior to the decision of Larry Raymond Jones, the range for murder, in the absence of death was 20-30 years," Mr Newbold said.
The court disagreed.
"Before all of this (Maxo Tido or Larry Raymond Jones) it was mandatory death penalty. I don't know where you're getting all of this from" the appellate president said.
"Why should we interfere with the judge's discretion? Did he go beyond the usual sentence imposed in such a case?" Dame Anita asked.
Mr Newbold said McPhee had a favourable probation report and his client's age should have also been a mitigating factor.
The appellate president disagreed on the latter before asking the attorney how the victim was killed.
"Didn't the pathologist's report note that two types of injuries were there?" Justice Isaacs said.
"As I recall, this was a particularly gruesome murder," the appellate president said.
Franklyn Williams, Crown respondent, said the trial transcripts noted there was indication of asphyxia, blunt force and a sharp force injury to the head, among other things.
"There were two individuals convicted though," Mr Newbold stressed.
At trial, the jury heard that McPhee, who was estranged from his wife, lived with McKenzie and was also the beneficiary of McKenzie's $150,000 life insurance policy.
Rolle, who was also married, was also seeing McPhee.
It was alleged that both Rolle and McPhee played a role in McKenzie's brutal death on March 21, 2011. Her mouth and nostrils were duct taped before her body was dumped off Prince Charles Drive.
The former lovers blamed each other for McKenzie's death when trial opened in 2014.
According to Rolle, McPhee, whom she had dated for two months, came to her house around 3am the day in question.
She said he took her to his home on Wulff Road after they smoked a marijuana joint.
Rolle claimed that she entered the home after a prolonged wait for McPhee in his truck.
She said she found McPhee in the room with a body in a pool of blood. According to Rolle, the person was still moving when McPhee duct taped her face.
Rolle said she tried to leave, but McPhee held her hand and closed the door.
Rolle said McPhee forced her to drive as they looked for a place to dispose of the body.
McPhee, however, described Rolle as an obsessed woman who attacked McKenzie in his presence with a hatchet.
"They were jointly charged and jointly convicted," Dame Anita said yesterday, further reminding Mr Newbold that this was now his client's appeal they were addressing.
Justice Crane-Scott recalled the trial judge's words of "callous and chilling" in describing the murder.
Mr Newbold said McPhee's co-accused received a lesser sentence and his client should receive the same.
Mr Williams, in response, said the appellant received the sentence he did based on the evidence adduced at trial.
"The appellant, in an apparent attempt to absolve himself, attempted to cover it up. He had gone to the daughter of the deceased and went to the police, something about reporting the deceased missing. No doubt the learned judge was well placed to draw the inference," Mr Williams said.
Mr Williams said the jury also heard that McPhee and the accused went to the Paint Place to purchase paint he thought would match the crime scene to cover up the bloodstains.
The manager of the establishment confirmed that McPhee told the cashier to place the items purchased under the co-accused's name.
Mr Williams also urged the court not to forget that a daughter of the deceased confirmed that McPhee "was the beneficiary of the deceased's life insurance policy."
"Mr Newbold, your client was fortunate not to have received the death penalty given the financial motive in this. He ought to be calm that he only received 40 years...and that's speaking for myself," Justice Isaacs said.
The judges unanimously agreed that there was no merit in McPhee's appeal against sentence and saw no reason to interfere.
McPhee's appeal was dismissed.