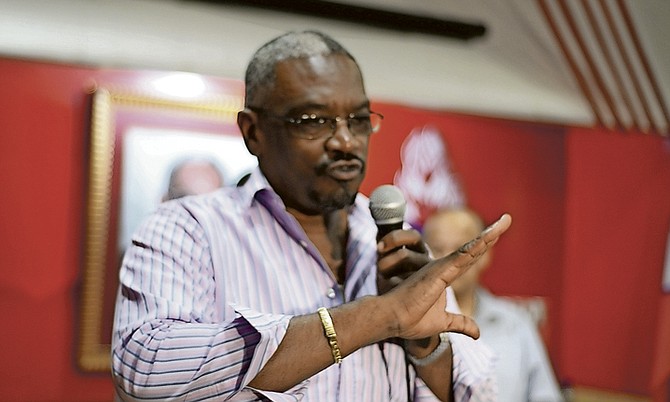 By RASHAD ROLLE
Tribune Staff Reporter
rrolle@tribunemedia.net
A LEADERSHIP conundrum in the Free National Movement (FNM) is setting up a battle between those who think Dr Hubert Minnis is failing skill tests and those who believe he is enhancing the voices of regular Bahamians in ways never before seen in the party.
Interviews with nearly a dozen FNM delegates and councilors yesterday revealed a deeply divided party featuring people who hold polar opposite views of Dr Minnis. Both sides seemed to cling to narratives that explain why the other side has the view it does.
Among those who oppose Dr Minnis as leader, many said the Killarney MP has the support of some in the party only because he has made "significant promises" to them or provided them with services like travel.
On the other hand, among those who support Dr Minnis, many said adversaries of the leader represent the "old guard" that privileges the perspectives of a select few while silencing the voices of many more.
Most of the delegates and councilors who opposed Dr Minnis pined for the return of former Prime Minister Hubert Ingraham as opposed to the promotion of a current, active frontline member of the party.
Jason Carey, an FNM member who expects to be elected to Eleuthera's constituency branch team when elections are held, said most FNMs on that island want Mr Ingraham to return and Dr Minnis to step down.
"They want Hubert Ingraham to come back to sort out the party and groom Loretta (Butler-Turner) to take over later," he said, blaming the Long Island MP's loss in the 2014 leadership race on sexism.

"Dr Minnis is like a child trying to do a man's job and Christie is the man."
"Ingraham is proven," one party councilor, who did not want to be named, said. "He has done it before so he can do it again. (Minnis) got to go."
Similarly, a delegate from Marathon lamented the failure of the FNM to gain greater traction with the Bahamian electorate, saying Dr Minnis has not shown the ability to unify the party.
"I'm not opposed to having a change in the leadership," she said. "Since Dr Minnis has been elected leader, there has always been back and forth and questions about whether he has what it takes to win the election. With all that's happening in the country right now, the opposition is too weak and this weakness falls under his leadership."
However, the delegate said she would bet on Dr Minnis to win when a convention is held.
"I feel that if a convention is held he would win because of the voting populace," she said. "Those persons that have the power or right to vote would most likely still re-elect him as leader of the party because a lot of them, he has really sold them a lot of dreams. If you talk to him on a regular basis, he promises a lot."
But for those like Colin Ingraham who are partial to the party's leader, Dr Minnis is fighting a noble battle to wrest power from the control of a group of formidable party insiders and spread it among members of lesser standing.
"The general sentiment at this time is that we know the party is going through change and when you are going through the process of change, it's sometimes ugly especially when you consider that many of the persons in the establishment have been in place for decades and they tend to think it's their divine right to dictate what happens," he said. "But for us who have toiled in the field, we are happy to have a leader that has been listening to us and having us feel a part of what's going on."
Regarding accusations that a United Bahamian Party (UBP) faction of the FNM is seeking to move Dr Minnis as leader, Mr Ingraham, chairperson of public relations in the FNM, said he thinks this notion is misguided.
"I wouldn't say there is a UBP faction because that is too narrow," he said. "It's just that there is a group of people that has gotten accustomed to being in control of too many things. There are certain people in this country that believe that based on who their mother or father is, that causes them to have a greater right to be involved in the benefits of this country and that's not acceptable."
Those who supported Dr Minnis gave lukewarm responses to talk about the return of Mr Ingraham, saying the time has come for new leadership.
Teewhy Kelly, a delegate of West Grand Bahama, said: "Mr Ingraham did his part very well and did a very good job. There are more Bahamians like Mr Ingraham who could take this country even further if given that chance. In 40 years we've only had three leaders? That speaks bad about our country."